Google My Business, currently known as Google Business Profile, enables business owners to reach out to clients through Google Search and Google Maps.
Maintaining a Business Profile allows you to boost your Google visibility, acquire reputation through reviews, and gain control over your business information.
What Exactly Is Google My Business (Now Called Google Business Profile)?
Google My Business (GMB) is a free service that allows you to choose how your company appears on Google Search, Maps, and Shopping. Google My Business is very helpful for local businesses to show case their business online.
You can use this tool to communicate with consumers, post business updates, list items or services, and much more.
Have a look on how Google My Business looks like on Google SERP (Search Engine Result Page).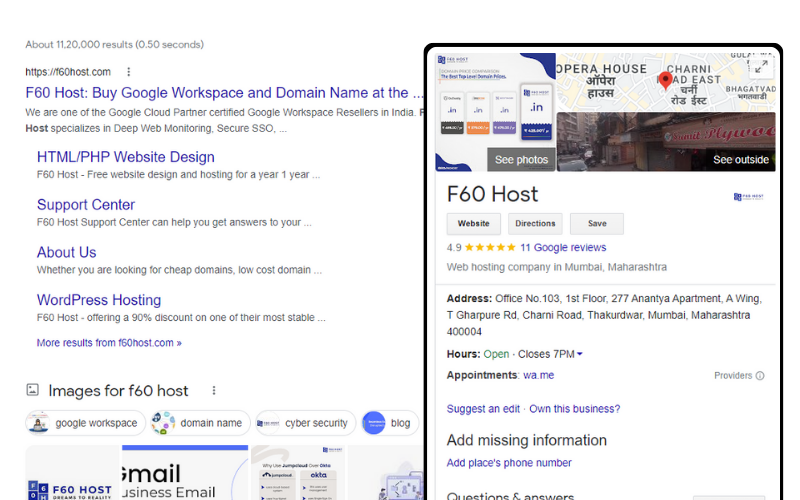 You can have an account even if you don't have a storefront as long as you have communication with clients.
If you're a plumber, for example, you might only see consumers at their homes. You can, however, maintain a Google Business Profile.
Is Google Business Profile Free?
Creating and managing your Google Business Profile is completely free. You can get a lot out of it without paying a single rupee.
What Are the Advantages of Using Google My Business?
Maintaining a Google Business Profile has three major advantages:
Starting with number one
Increase your Google visibility
Reviews might help you get reputation.
Customers should be given business information.
Lets get started and dive into a single topic one by one
Increase your Google visibility
You've probably noticed the map and associated list of businesses that can display at the top of Google search results when you search for a business. This is referred to as the "local pack" or "map pack."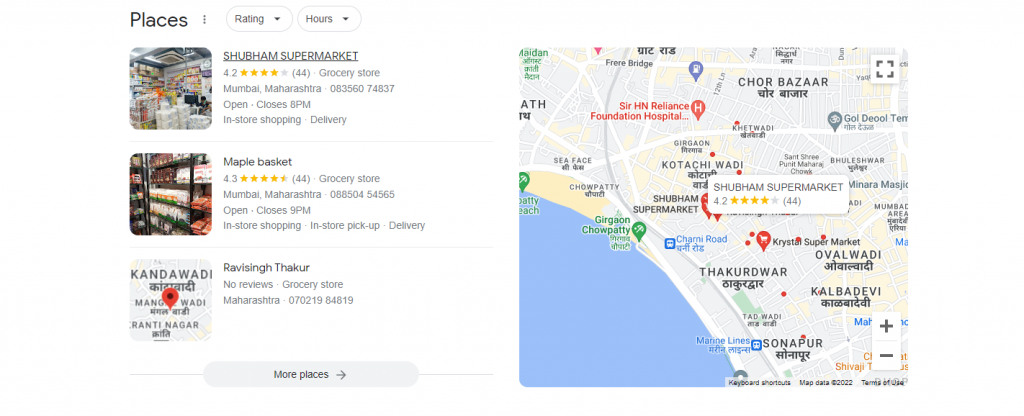 For location-specific queries (or search words that infer location, such as "restaurants near me"), the local pack appears. It contains Google Maps results as well as business information.
Businesses with well-optimized Google Business Profiles have a far better chance of appearing in these results.
In recent years, mobile searches for terms like "where to buy" and "near me" have surged by more than 200%.
These are referred to as "discovery searches." Instead of seeking for a specific brand, customers are looking for a category.
So, if a user is geographically close to your business and searches for a broad word such as "restaurant," your business is more likely to appear as a geolocated result if it is well-optimized (we'll go over more optimization techniques later).
Reviews might help you get reputation
Online reviews for local businesses are read by 98% of users.
On Google Maps, the star rating next to business names (which runs from 1 to 5) is a total of reviews.
Reviews provide useful information about your company. You may respond to reviews, which can help your customers trust you.
Customers, on the other hand, do not demand faultless evaluations. A balance of positive and negative ratings, according to Google, is really more trustworthy.
Responding to reviews, both positive and negative, is an excellent approach to create trust and credibility with current and prospective consumers.
Customers should be given business information
You can also notify your consumers of any temporary modifications. You can, for example, post holiday hours or indicate whether your firm is temporarily closed or completely reopened.
How To Optimize Your Google My Business Profile
It's time to optimise your listing now. Here are some ongoing measures you can do to keep your Google Business Profile optimised.
Review NAP Consistency
The most vital information in your Google My Business profile is your NAP. It is an abbreviation for name, address, and phone number.
Consistency in NAP helps potential customers identify and locate your company. To avoid confusion, keep this information consistent everywhere your firm appears online.
Begin by ensuring that everything in your business account is right.
Go to the "Info" page and double-check that your company's name, address, and phone number are correct.
Manually managing your business information in local directories is inefficient.
Related: Optimize Google my Busines
Write a Business Description
Business descriptions allow you to include information about your company's products and services, as well as its history.
Google suggests that you utilise your Business Description to provide useful information about your products and services, as well as your company's missions and history.
Rather than cramming in as many keywords as possible, concentrate on providing a useful description.
Here are some more Google advice on what not to put in your business description:
Incorrect or perplexing information
Specials or promotions in profane language
Misspellings, nonsense, or the usage of gimmicky characters
Include Images in Your Listing
After you've written your Business Description, it's time to add some photographs to help you stand out.
First, choose a profile photo (typically your company's emblem) and a cover photo that best portrays your company. You can also add more business images to your Google My Business listing.
Exterior images, interior photos, product photos, photos of your crew at work, and common spaces are some types of company photos to include.
Create Google Posts on Google My Business
Share deals, events, products, and services to Google Search and Maps directly using Google Posts. They are located near the bottom of the Business Profile, in the "From the Owner" section.
Text, images, and videos can all be included in posts. You can create the following sorts of Google Posts:
Offers: Include a title, beginning and ending dates, and a photo or video. A promo code, URL, and offer details may also be included.
What's New: General information about your company (or links to recent blog posts). A photo or video, a description, and an action button are all possible.
Events: Event marketing for your company. A title, start and end dates, and a time are required. A description, a photo or video, and an action button are all possible.
Here's how you make a post:
Step 1: Log in to your GBP management account and navigate to the "Posts" section.
Step 2: Click on the button found at the bottom right corner of your screen to create a new post
Step 3: From the list at the top of the page, select the type of post you wish to create.
Step 4: Fill in the blanks with your text and photographs. Here's an example of a "What's New" type post.
Step 5: You can include a button to make it easy for clients to visit your website, place an order, or perform other tasks.
Step 7: When everything appears to be in order, click the "Publish" button in the bottom right corner of the window.
Make the most of your Google Posts by include high-quality photographs and posting frequently.
Posts are only visible for seven days (unless you choose a "Event" post with a longer time range). However, because only a few postings are visible at a time, having more than two live posts at the same time is pointless.
Also, make it brief and to the point. Although you can enter up to 1,500 words, the preview only shows roughly 75-100 characters.
GBP Featured Products
Using Google Business Planner's Product Editor, you may highlight a curated list of products immediately on your business listing.
Create collections with at least three products, fill up the relevant details, and allow your users to click on individual products for more information.
Here's how you add a product:
Step 1: Login to your Business Profile account and navigate to the "Products" tab.
Step 2: At the top of the page, click the "Add product" button.
Step 3: In the pop-up box, upload a photo of your product and give it a name.
Step 4: Scroll down to choose an existing product category or create a new one.
Step 5: If desired, include the item's price and a brief description.
Step 6: Select a button from the list and connect it to your website. The presence of a button within your GBP makes it easy for searches to find your product page.
Step 7: Save your work and you're done! It can take up to 30 minutes for your products to appear in search results.
Keeping your Google Business Profile up to date is a free method to stay ahead of the competition. Hope this article helped you know more about Google My Business. Stay connected with us for further update @f60 Host.