In a sentence, what is Google Docs?
It is an online word processor that allows you to create and format documents as well as collaborate with others.
Google Docs now has a new tool that allows you to highlight multiple selections of text at once in order to execute formatting actions on text more efficiently.
Content writing can be time-consuming, from research to typing to fact-checking.
As a result, authors are constantly on the hunt for techniques that can help make things easier or accelerate the process even somewhat.
Google Docs latest update achieves just that, offering a potentially game-changing feature that streamlines repetitive modifications, allowing for speedier formatting and editing of documents.
"This will speed up formatting and editing documents by avoiding the need for repetitive modifications and enhancing your overall productivity," Google wrote on its blog.
The update is quick and does not require any action to begin utilizing it. It may, however, take up to fifteen days for it to become available across the ecosystem.
Google Docs is a part of Google Workspace.
Google Workspace includes all of your favorite productivity tools including Gmail, Calendar, Drive, Docs, Sheets, Slides, Meet, and many more.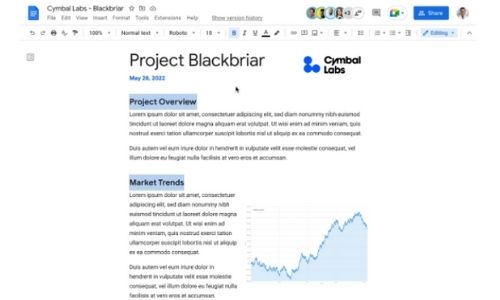 Users will be able to use the feature using keyboard shortcuts that differ depending on the operating system
On a Mac, after highlighting their first text selection, press Ctrl + ⌘ + Left/right arrow.
On Windows, after highlighting their first text selection, press Ctrl + Alt + Shift + Left/right arrow.
On Chrome OS, after highlighting their first text selection, press Ctrl + Alt + Shift + Left/right arrow.
Google Docs is always being updated to add new features.
At Google I/O 2022, the firm introduced auto-summaries for Docs (and other Workspace products) that will parse your documents, extract the most essential facts, and provide a summary.
Many individuals use their search engine to get answers to queries, one of which being which is better, Google Docs or Microsoft Word.
Here is a brief comparison.
Google Docs vs Microsoft Word
Google Docs is a free online word processor that is part of Google's Google Docs Editors suite, which also includes Google Sheets, Google Slides, Google Drawings, Google Forms, Google Sites, and Google Keep.
Google Docs is a web-based application that can be accessed through an internet browser.
It is also available as a mobile app for Android and iOS, as well as a desktop version for Google's Chrome OS.
Google Docs is free for the average user.
Microsoft Word is a word processing software created by Microsoft.
Microsoft Word cannot be purchased as a stand-alone product.
It is included in the Microsoft 365 package (previously known as Office 365), which also contains Microsoft Excel, PowerPoint, Outlook, OneNote, Publisher, and Access.
You can only install Word on a limited number of computers after purchasing this suite, depending on the subscription level you select.
Which would you prefer in this Google Docs vs Microsoft Word comparison?
For the previous 30 years, Microsoft Word has been the only name worth remembering in the world of word processors, but Google now intends to dethrone it.
Many individuals find Docs easier to use on a daily basis than Word because of its simple features that are intelligently intended for the expanding cloud-based workforce.
Others in the business world who rely on Microsoft's continuously growing capabilities will be disappointed by Google's straightforward approach and limited toolset.
So, after weighing the pros and cons of both companies, you must pick which is best for you.
Google Docs may be the ideal solution for your limited hard drive capacity and high collaboration needs if you have a Gmail account and take your Chromebook coffee shop hoping to work remotely with your team.
However, if your company uses Microsoft and you have an Outlook email, you may not want to upset the apple cart by switching from Word.
We believe you should run each program for a week to test it out for yourself.
Also, know the Top 5 upcoming Google Workspace features which google is going to launch in 2022.