Improving your WordPress SEO is essential for increasing visitors to your website. However, most WordPress SEO tutorials are too technical for beginner users to follow.

If you are serious about improving your website traffic, you must follow WordPress SEO principals.
We will provide the best WordPress SEO techniques in this post to help you boost your WordPress SEO and obtain more organic traffic.
Experts may have told you that WordPress is SEO friendly. This is why many people pick WordPress to build a blog or a website. While WordPress ensures that the code it creates adheres to SEO best practices, there is much more you can do to improve your SEO efforts.
To effectively improve your WordPress SEO, we have a number of active measures for you to do. To make things easier, we've established a table of contents to assist you explore our definitive WordPress SEO guide.
What is SEO?
Search Engine Optimization (SEO) is the technique of optimizing your web pages to boost its exposure and ranking in search engines such as Google, Bing, and others. If effectively implemented, it may deliver a lot of free organic traffic to your website and play a significant part in your site's conversion rate.
Many factors impact website SEO, including design, on-page keywords, links, and many others. You must conduct extensive study on these factors before implementing them on your website in order to make your online content available to anyone searching for it on search engines.
When people search the web for the topics you write about, your SEO-optimized material will appear higher in the search results, increasing the number of people who click through to your website.
Why SEO is important?
Most websites' primary source of traffic is search engines.
Google and other search engines utilize sophisticated algorithms to interpret and rank sites in search results. However, those algorithms aren't flawless; they still want your assistance to grasp what your content is about.
Search engines will not know how to rank your content if it is not optimized. When people search on the topics you write about, your website will not appear in the search results, and you will lose all of that traffic. It is critical for all company owners to optimize their search traffic by making their website search engine friendly.
WordPress SEO Basics
SEO may get complicated, but it doesn't have to. Simply mastering a few simple SEO methods to enhance your site can result in a considerable increase in internet traffic.
You don't need to be a computer expert to use the strategies listed below. If you currently use WordPress, you have everything it takes! Let's begin improving your website.
Analyze Your Website's Visibility Settings
WordPress has an option to conceal your website from search engines. The goal of this option is to allow you time to work on your website before it goes public.
However, this option might be unintentionally ticked, rendering your website inaccessible to search engines. If your website is not visible in search results, the first thing you need do is uncheck this option.
Simply log in to your WordPress site's admin area and navigate to the Settings » Reading page.
Scroll down to the 'Search Engine Visibility' area and uncheck the option next to 'Discourage search engines from indexing this site'. Remember to click the 'Save Changes' button to save your changes.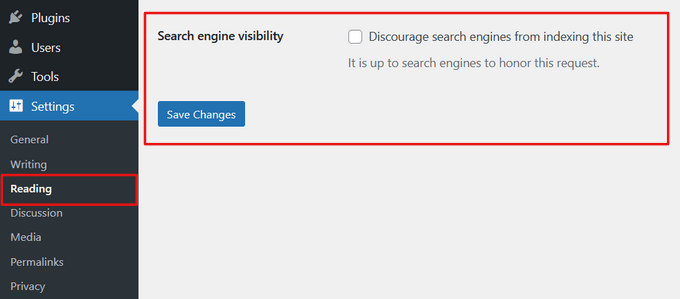 Set SEO Friendly Permalink (URL) Structure
Every page and blog post on your website has its own permalink. A permalink is critical for SEO since search engines utilize it to determine what the page is about. As a result, you may nudge the search engines by include your chosen term in permalinks.
Unless you update it explicitly, WordPress settings will set the "date and name" setting by default.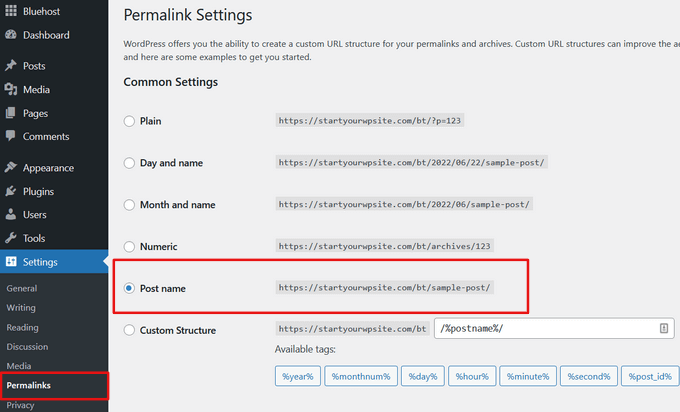 Go to Settings >> Permalinks in your WordPress dashboard to configure the permalink structure. Normally, an SEO-conscious WordPress user will employ "Post Name" options. So, you may experiment with the settings or pick the best one to link based on your preferences.
Some examples of SEO friendly URLs are:
https://f60host.com/how-to-install-wordpress/
https://f60hostcom/common-wordpress-errors-and-how-to-fix-them/
Notice how understandable these URLs are, and how a user can estimate what they would see on the website simply by glancing at the URL content.
So, how does a non-SEO friendly URL appear?
https://f60host.com?p=10467http://example.com/archives/843
It's worth noting that these URLs employ numbers that have nothing to do with the content, and a visitor can't tell what they'll discover on the page just by glancing at the URL.
Using an SEO-friendly permalink structure increases your chances of ranking higher in search results. Here's how to inspect and adjust the permalink structure of your WordPress site.
Select between WWW domain prefix or non-WWW domain prefix.
When creating a website, you will be given the choice of using the www or HTTP domain prefix at the beginning of the URL. You may do any of the two when you first start out, but once you get going, you must stay with it.
This is because search engines regard them to be two separate websites, and altering the domain prefix in the middle might have a detrimental influence on your site's rating.
Because search engines perceive them to be two distinct websites, you must pick one and stick with it.
You may change your preferences by going to the Settings » General page. Fill up the 'WordPress Address' and 'Site Address' columns with your selected URL.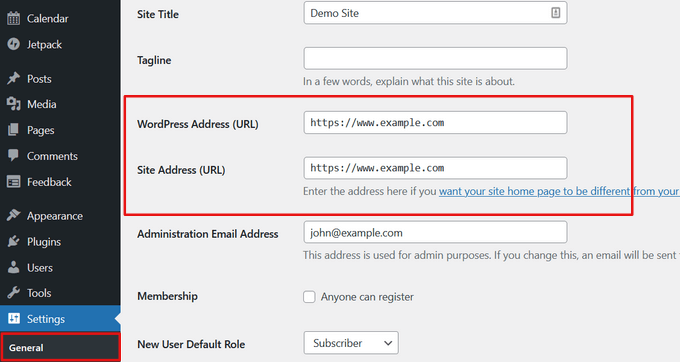 Regardless of what others claim, there is no benefit to employing one over the other in terms of SEO. For more information on this subject, see our tutorial on www versus non-www – which is better for WordPress SEO.
The Most Effective WordPress SEO Plugin
Now that you've established the fundamental SEO settings integrated into WordPress, it's time to apply SEO plugins to optimise your site. There are dozens of SEO plugins available for WordPress, making it difficult for novices to select the best one.
So, to assist you, we have chosen three of the most popular and thoroughly compared them in our article: Which is the best WordPress SEO plugin: Rank Math, Yoast SEO, or All in One SEO?
Choosing the Most Productive WordPress SEO Plugin
When it comes to selecting the finest WordPress SEO plugin, you will most likely be limited to two options: All in One SEO (AIOSEO) or Yoast SEO. AIOSEO is the first WordPress SEO plugin, with over 3 million installations.
TruSEO on-page analysis, rich snippets schema markup, social network integration, breadcrumb navigation, extensive eCommerce SEO support for WooCommerce, local SEO, and many more features are included.
Simply simply, AIOSEO handles all of your WordPress site's technical SEO optimization. AIOSEO will be used for screenshots and examples in this tutorial.
For more details, you can see our complete guide on Top Most Essential WordPress Plugins.
Add XML Sitemaps in WordPress
An XML Sitemap is a specifically designed file that contains a list of all the pages on your website. This allows search engines to easily discover all of your information.
While adding an XML sitemap does not improve your site's search rankings, it does assist search engines in swiftly finding and ranking the pages.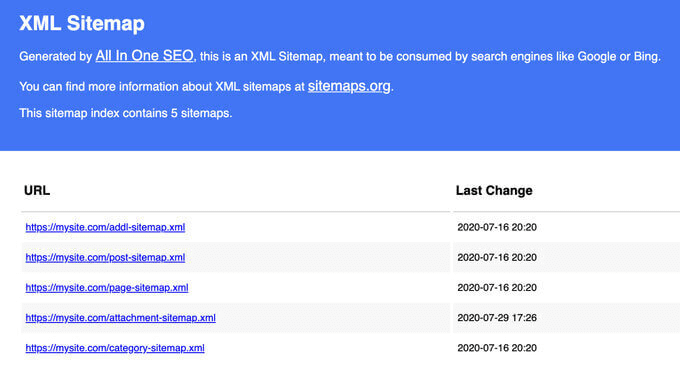 If you're using the AIOSEO plugin, then it will automatically produce an XML sitemap for you. Simply browse to this URL (change example.com with your own domain name) to find your sitemap:
http://example.com/sitemap index.xml
In the following step, we'll teach you how to submit your XML sitemap to Google.
Add Your Site to Google Search Console
Google Search Console, often known as Webmaster Tools, is a suite of tools provided by Google to website owners to help them understand how their content is viewed by search engines.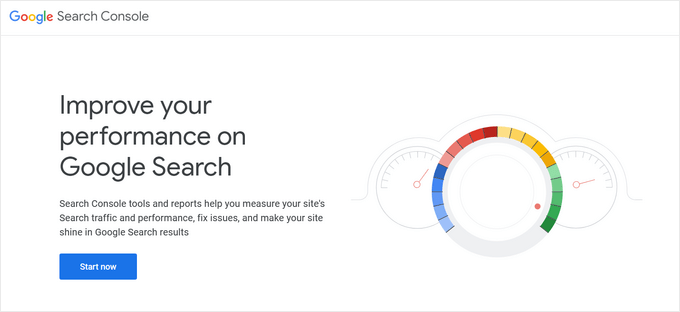 It offers analyses and data to assist you in understanding how your sites appear in search results. You can also view the actual search phrases that people use to locate your website, how each page appears in the search results, and how frequently your sites are clicked.
All of this data helps you determine what works and what doesn't on your website. After that, you may organize your content strategy appropriately.
After you've added your website to Google Search Console, go to the Sitemap option on the left and copy the last portion of the sitemap URL.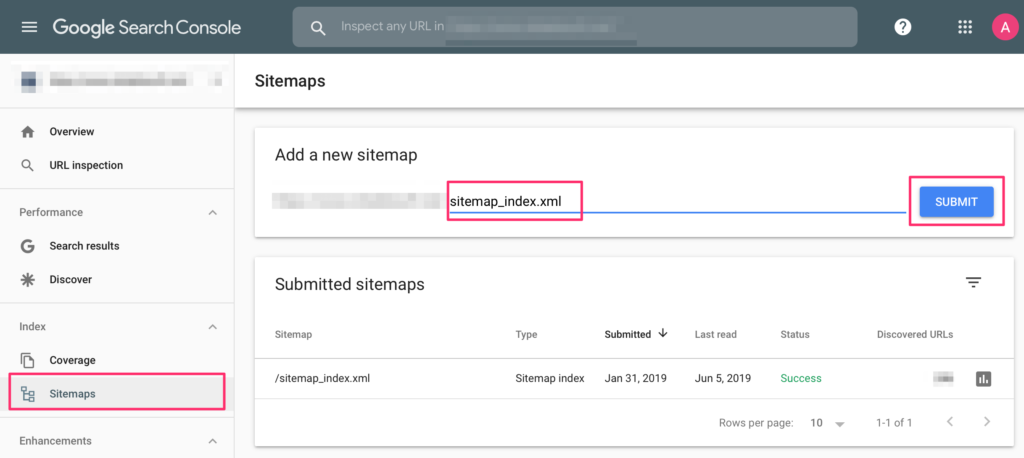 After you've added your website to Google Search Console, go to the Sitemap option on the left and copy the last portion of the sitemap URL.
To save your changes, click the Submit button.
Google Search Console will now crawl your sitemap and utilize it to optimize crawling.
Once you have successfully added your sitemap, it will be shown as pending. It does take Google some time to crawl your website. After a few hours, you should be able to check some statistics about your sitemap. It will show you the number of links it discovered in your sitemap, how many of them were indexed, the ratio of photos to web pages, and so on.
We recommend that you monitor your Search Console at least once a month to collect insights and track your website's SEO success. In addition to Google Search Console, you should utilize MonsterInsights to examine your results.
SEO Optimization for Blog Posts
Beginners frequently make the mistake of believing that installing and activating a WordPress SEO plugin is all that is required. SEO is a continuous process that must be maintained if you want to achieve the best results.
Every blog post and page may have an SEO title, meta description, and focus keyword added by any of the best SEO plugins. It also provides you a preview of what people will see when they search for your website on Google.
To receive the most hits in search engine results, we recommend that you tweak your title and description. Simply scroll down to the SEO area while composing your blog article and take full benefit of it.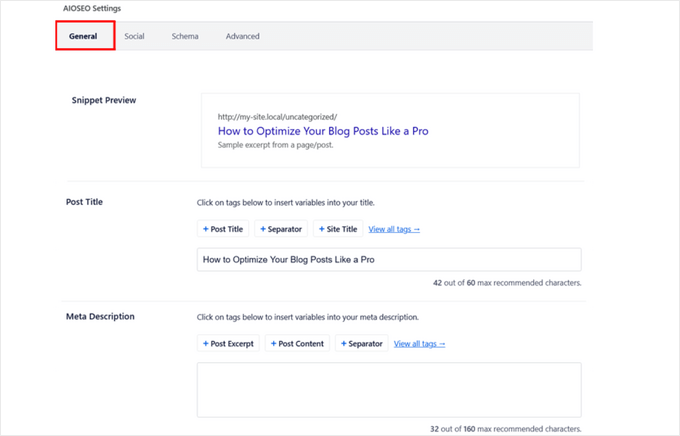 If you're wondering how to select a focus keyword or focus key, what makes a good title, or what makes a decent meta description, we've got you covered with our beginner's guide to optimizing your blog articles for SEO.
We strongly advise you to read it since on-page SEO is critical to the success of your SEO campaign.
Doing Keyword Research for Your Website
Many newcomers make educated estimates about what subjects people are looking for and what they should include in their blogs and websites. It's similar like firing an arrow in the dark. You don't have to do that when you can utilize genuine data to figure out what customers want.
Content authors and SEO specialists utilize keyword research as a research strategy. It assists you in identifying keywords that customers type into search engines to find content, goods, and services in your sector. You may then employ those terms and phrases to increase search traffic to your website.
Best WordPress SEO Practices
You will already be ahead of most websites if you follow the basics of WordPress SEO and utilize the finest WordPress SEO plugin. However, if you want even greater results, you should adhere to the WordPress SEO recommended practices listed below.
These aren't very technical, and the most of them won't even require you to touch any code. They will, however, make a significant impact if you follow them.
Using WordPress Categories and Tags Correctly
Make the practise of internal linking a habit.
WordPress Comment Optimization
WordPress does not allow you to follow external links.
Full Articles vs. Summaries or Excerpts
If you're ready to try some more advanced techniques, you can also check out our archive of SEO vs SEM.
We hope this article helped you learn how to properly optimize your WordPress site for SEO. Go ahead and implement a few of these WordPress SEO tips, and you should see an increase in your traffic within a few months as the search engines process your changes.
Check out more educational articles on F60 Host. We also have blogs on Mobile SEO to help rank your website on Google.
If you would like a blog on a certain topic, please feel free to contact us at F60 Host.