Rank Math is a new WordPress SEO plugin with several outstanding core capabilities.

Today, though, we're launching Rank Math, a newer WordPress SEO plugin. We'll look at what the plugin does, how it compares to other SEO plugins, and how to install and configure it for your WordPress website in this article.
What is RankMath?
Rank Math is an SEO suite-style plugin that is jam-packed with functionality to ensure that your website is optimised for search best practises. If you've ever used another WordPress SEO plugin, you should have a good idea of how Rank Math works.
The key distinction between Rank Math and other SEO plugins (such as Yoast) is that it is a freemium plugin, which implies that it provides more capabilities in the free version than other plugins.
When was Rank Math founded?
Understanding a plugin's history should allow us to assess whether or not it is safe. Rank Math (the company) was founded in 2018 and is based in India. Over 850,000 active plugin users utilise the Rank Math plugin, which has grown in popularity among WordPress users in just three years. The plugin's development team consists of 27 people from across the globe. A global team enables Rank Math to design and optimise a plugin that is always aware of search changes and keeps the plugin up to date.
What are some of Rank Math's features?
What are some of the characteristics that distinguish this SEO plugin from the competition? Let us investigate more.
Simpleness of use
Many of our clients do not have the time to sit down and alter or configure every component of their WordPress sites. True, they have businesses to run! This is what makes Rank Math so great: it is simple to use, even when installed using the Setup Wizard. The step-by-step setup process walks you through the process of configuring parameters that are most suited to your website.
Data integration is included as usual
Understanding data – how consumers locate, visit, and interact with your website – is key to SEO. Rank Math accommodates this by incorporating Google Analytics and Google Search Console modules in the free edition; if you opt for the commercial version, you can track weekly rankings and have access to even more data.
Schema or rich snippets are included
As search engine algorithms evolve, it becomes increasingly important to incorporate schema markup into your SEO efforts. Schema is a sort of HTML markup that helps search engines like Google and Bing understand what a page is about and how it should be displayed in search results pages.
The 'Direct Answer' and 'People Also Ask' boxes, displayed below for the search query "What are core web vitals?" are examples of how Google displays results on a search results page.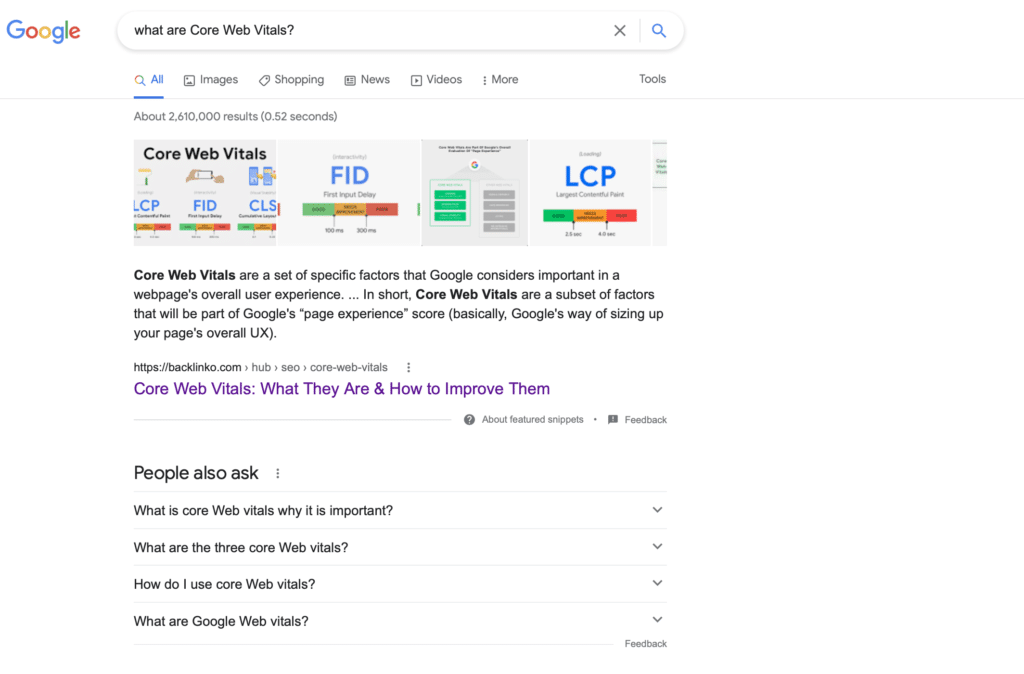 Integrating schema into your site boosts your chances of appearing in these or other featured snippets.
Installing a number of plugins is usually required to integrate schema across your site. The free edition of Rank Math, on the other hand, contains a rich snippet module. This means you have access to 14 different sorts of schema that you may use right away. This is necessary if you want your material to appear in Google's SERP features, which always appear on the first results page of most search queries.
Configurable and modular-based
Because the system is modular, you can use certain of the features as and when you need them. Unfortunately, many SEO plugins do not allow you to choose which features or add-ons to utilise based on your changing needs. Rank Math installs with some modules disabled (such as the schema, image optimisation, and redirection modules), which can be enabled when and if needed.
Built-in SEO audit
Another feature that distinguishes this plugin is its one-click SEO audit module. The plugin's analysis tool in the freemium edition indicates your SEO score and what you need to do to rectify and enhance it. (Think of it as having your own SEO auditor on call)
While this feature is good, it is important to note that it just covers the core components of SEO and does not cover all of the fixes that need be implemented on a website if you want to see exceptional SEO results.
SEO Fundamentals that are automated
As SEO evolves and content development and link building become more difficult, we rely on tools or features to implement SEO essentials. One such automation function is Rank Math's picture optimizer module, which allows you to configure the plugin to automatically add image ALT text and image title.
Because Google and other search engines don't know what graphics or elements your image contains, alt text is essential. Google cannot "see" in the same way that you and I can. To describe the image to search engines, we utilise ALT text. From the standpoint of web accessibility, it is critical to add ALT text for persons with visual impairments who rely on screen readers to understand the material on a website.
How to set up Rank Math
Now that we've a good understanding of the plugin, let's look at the plugin configuration and some of the essential settings needed to make it work.
You can skip a step or return to your WordPress dashboard at any moment throughout the setup wizard.
Step 1: Install the plugin
Log into your WordPress site's backend, then click "Plugins" on the left-hand side dashboard, followed by the 'Add New' button. A new window titled "Add Plugins" will appear.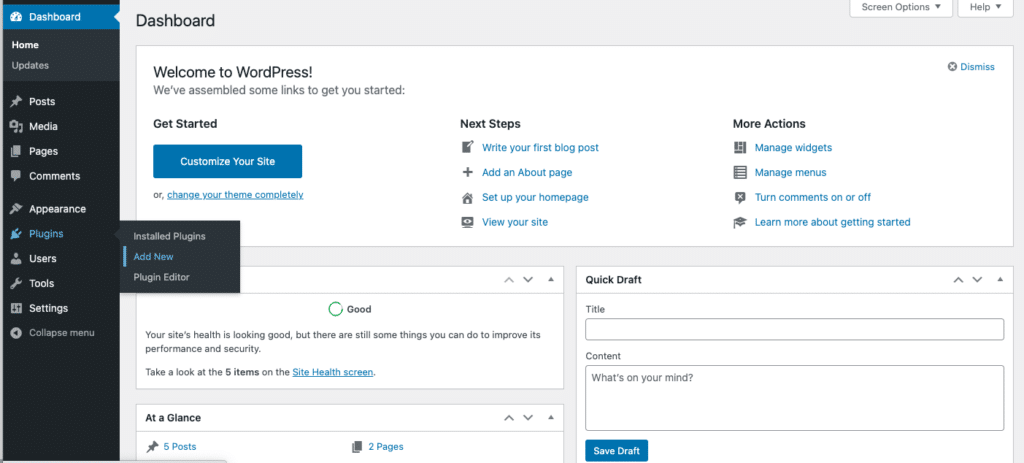 Next, click in the 'Search plugins" search box and type in "Rank Math."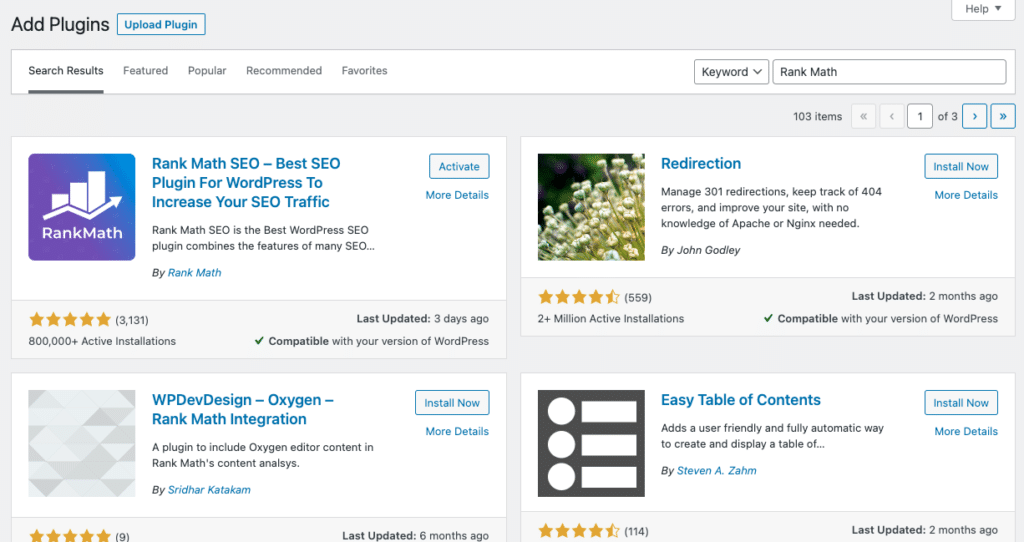 Click "Install Now" and then click "Activate." The plugin should now be installed.
Step 2: Connect your free account
After installing and activating the plugin, you will be routed to the Rank Math registration page. Create a free account here (for some extra features and articles that RankMath will send to your mailbox).
You can skip this step and continue – you don't need an account to complete the setup – but we urge that you register an account to receive valuable SEO insights from Rank Math's newsletter, which can help you advance your SEO knowledge.
Step 3: Follow the setup wizard
After you've created your account, the simple setup wizard appears. There are three techniques for creating your profile, depending on your degree of knowledge.
This post will walk you through the complex setup process.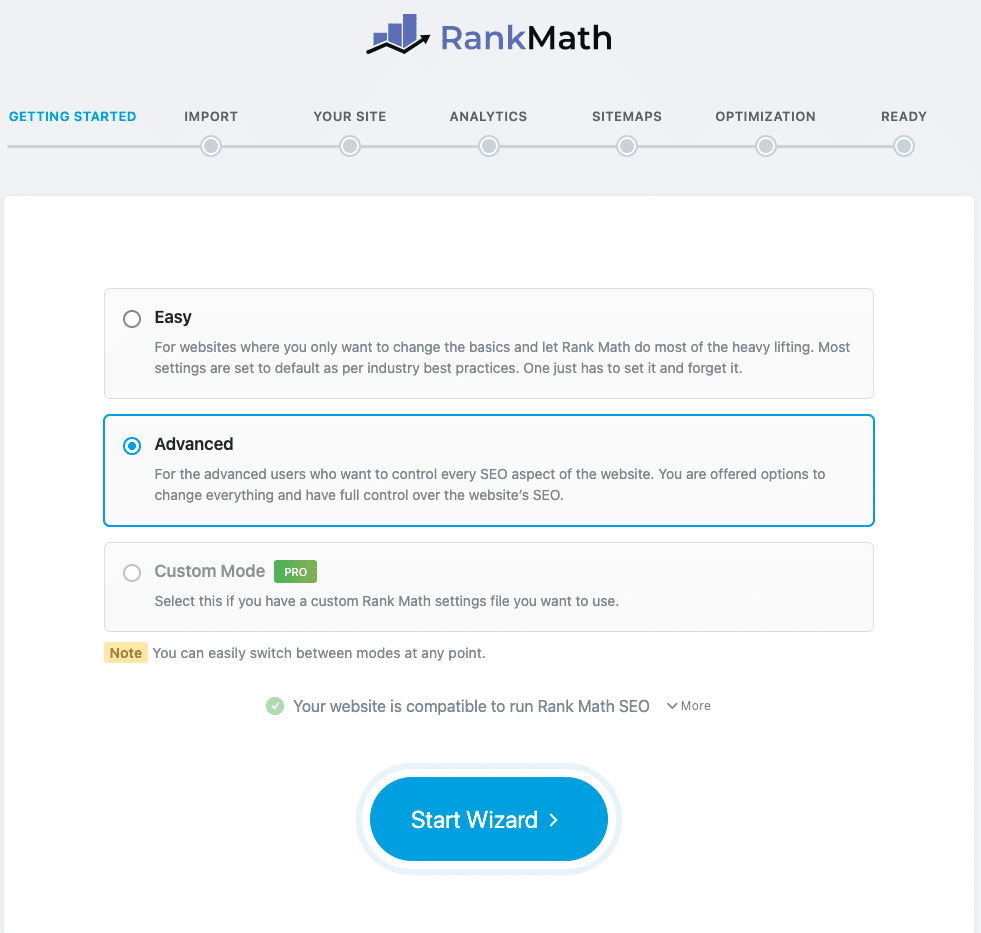 Step 4: Import SEO data from your SEO plugin
If you already have an SEO plugin installed, you can import its settings. Select the SEO plugin from which you want to import the settings, and then click the importer. When you select the "run importer" button, the importing of all settings will begin, as shown below.
Step 5: Add Your Website Details
This phase has a few prerequisites for completion, so make sure you have the goods listed on hand.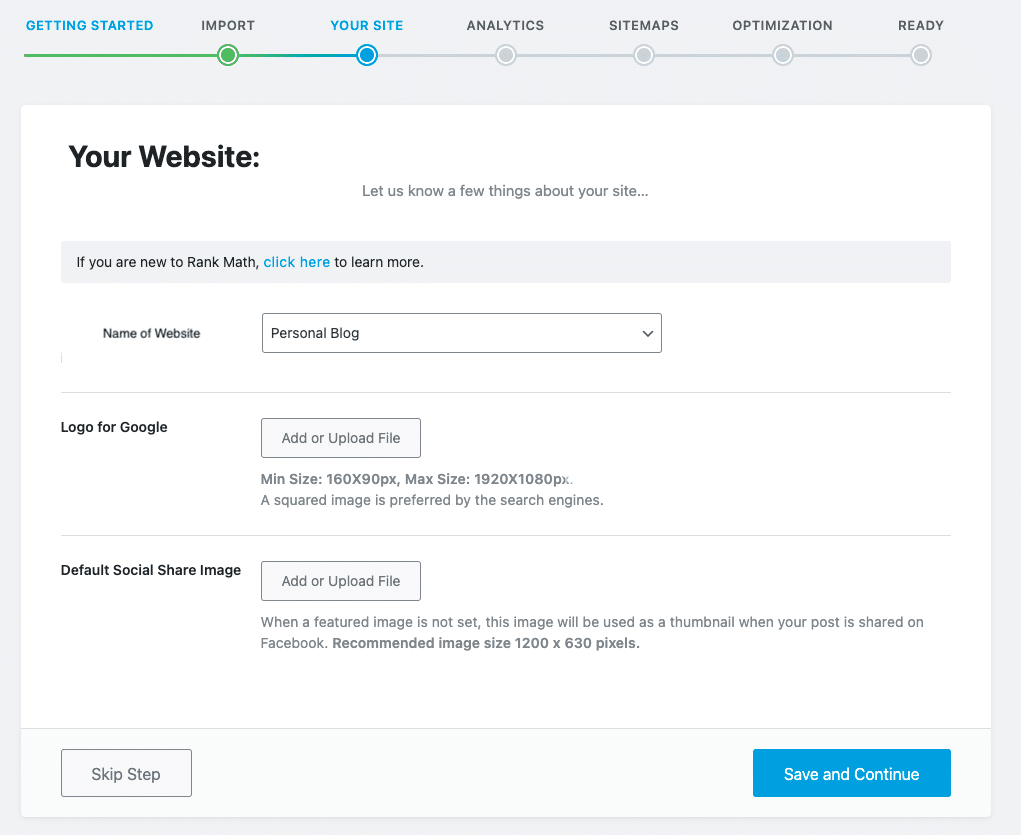 You must do the following:
Confirm your WordPress site's kind with Rank Math: Is it a blog, a store, a startup, or a portfolio? Then, choose the setting that is best appropriate for your type of website.
Put your website's logo here. Rank Math recommends square images with a minimum dimension of 160x90px.
Insert your default social sharing image here. When a link from your website is shared on Facebook or LinkedIn, this image will be utilised. This image's recommended dimensions are 1200 x 630 pixels. If your post or page already has an image defined for that page, the default picture used here will not be used.
After you've completed the preceding steps, click "Save and Continue."
Step 6: Connect to analytics
If you already have a Google Analytics account, click the Connect to Google Services button. If you do not already have Google Analytics, we recommend pausing here and creating a profile to integrate it.
Allow Rank Math access to your profile to integrate with the relevant GA and GSC profiles if you have both Search Console (GSC) and Google Analytics (GA) accounts.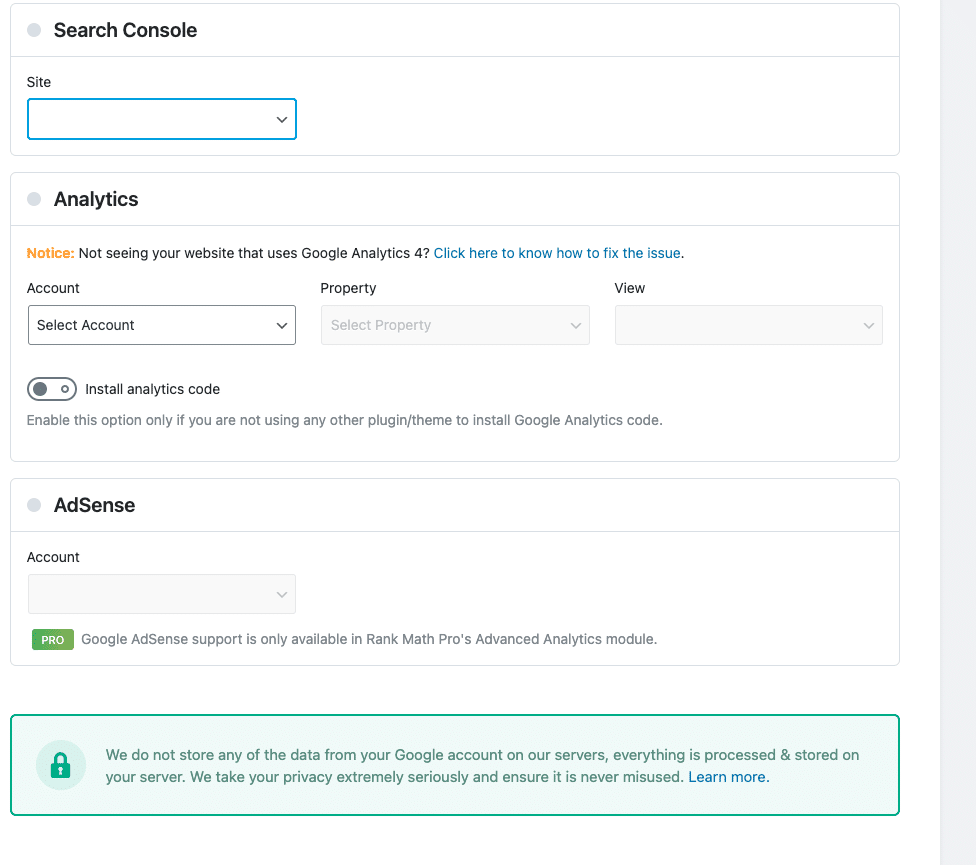 After that, choose which profiles you want to use on your website. If you haven't previously implemented the required tracking code, you can have Rank Math install it for you.
Choose "Save and Continue."
Step 7: Set up Sitemaps
Sitemaps are important guides that inform search engines about how your site is structured, what information they should crawl, and the importance of each page.
You must determine if you want Rank Math to build sitemaps automatically for you in this phase. Allowing Rank Math to accomplish this is our recommendation.
When you enable this function, numerous new options appear, as shown below.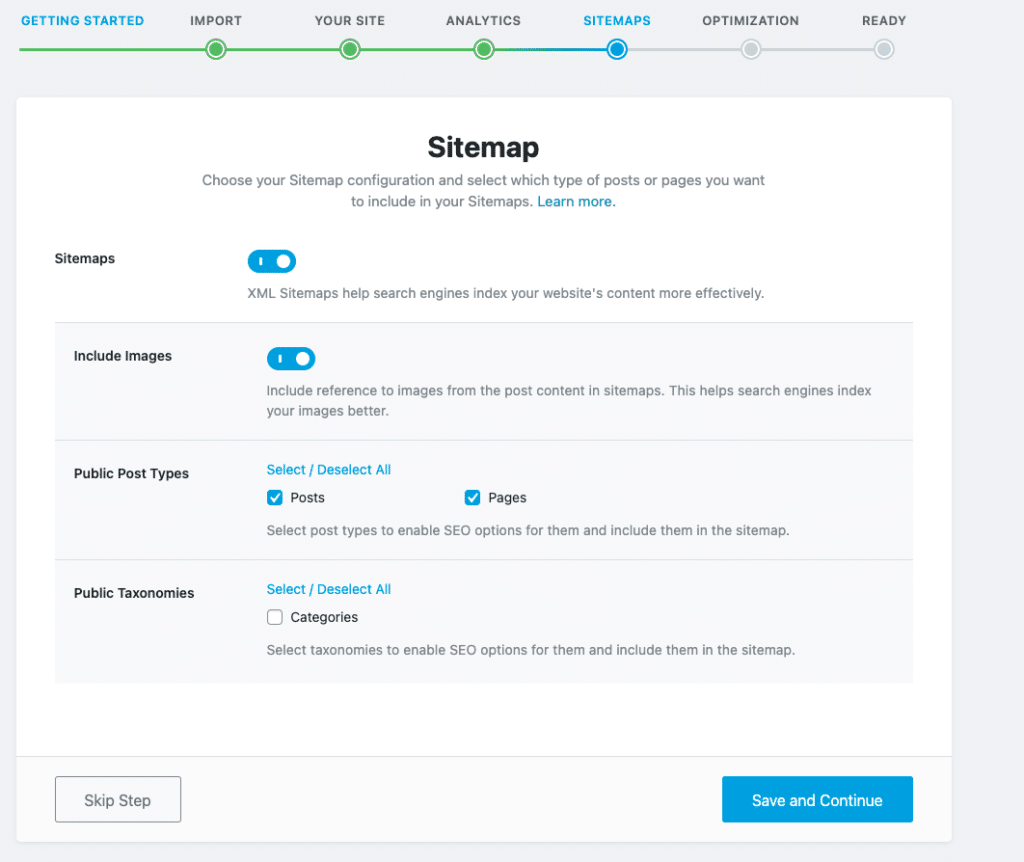 To get the most out of the plugin and sitemap setup, we recommend that you enable all of these options.
Once done, save and continue.
Step 8. Final SEO tweaks
The wizard's final stage focuses on the small parts of SEO. We recommend that you use the settings shown in the image below:
Turn on the Noindex Empty Category and Tag Archives.
Turn on the Open External Links in New Tab/Window options.
Turn off the Nofollow External Links feature.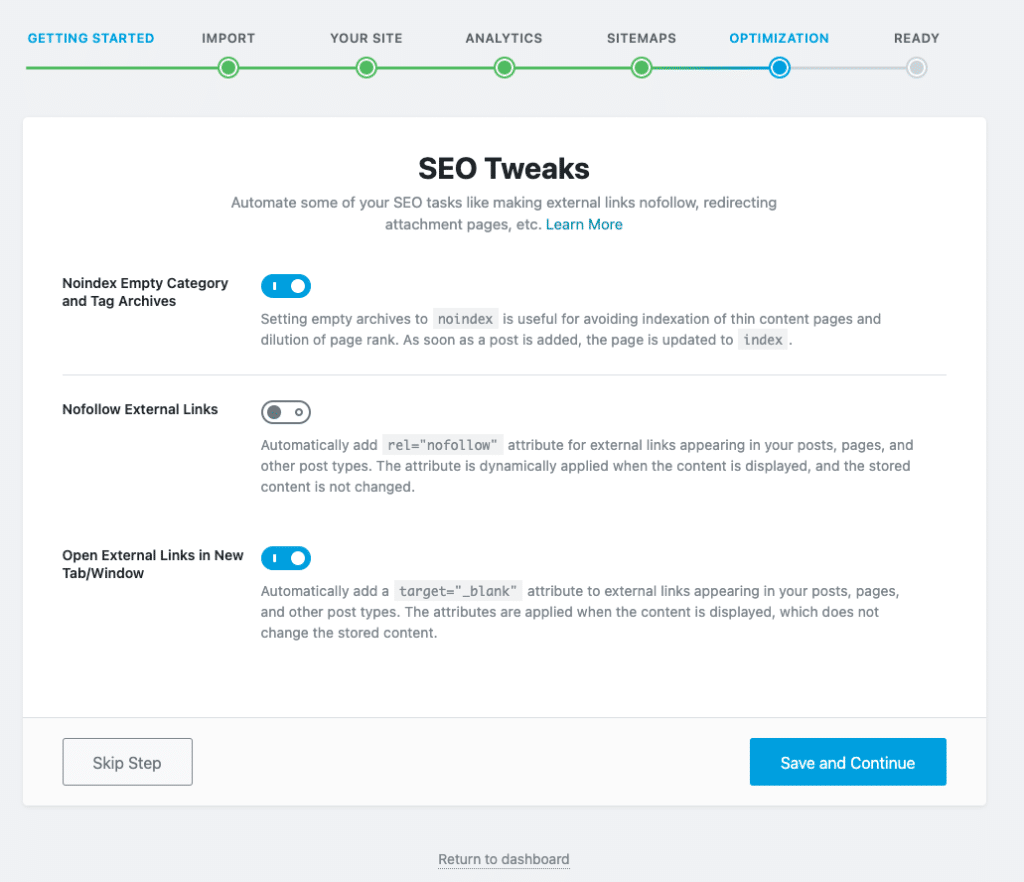 Step 9. Set up Modules
When you click the Return to Dashboard button, you'll be redirected to the Modules tab.
We propose you enable the following modules:
404 Monitor – With this module, you may keep track of any 404 error pages that may appear over time.
SEO Analysis – This is a significant function that helps you ensure that your site's SEO is on track.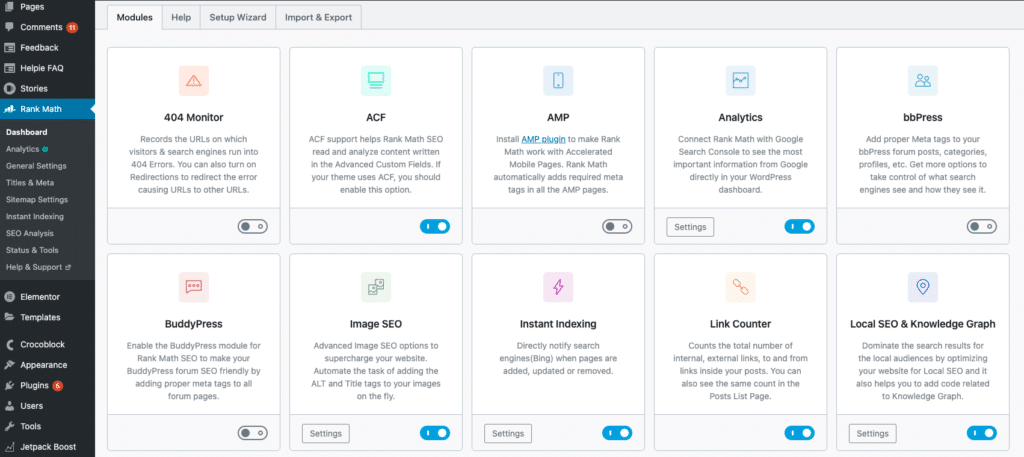 Redirections – A plugin is required if you need to redirect a broken page or delete a page. This Rank Math module can help.
Image SEO – As we all know, image SEO and accessibility are quite important these days. By enabling this module, you will be able to optimise and edit your website images.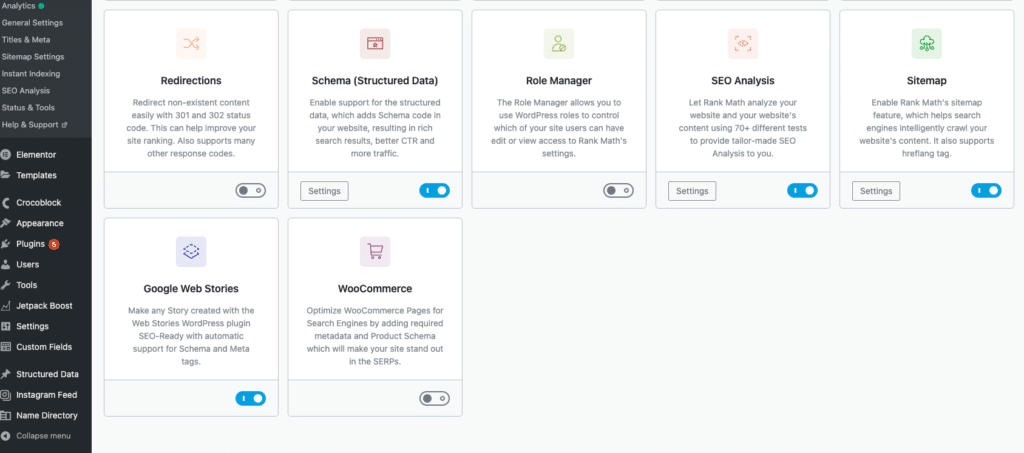 The remaining modules can be enabled on an as-needed basis. And, if they are relevant to your website type, such as an ecommerce business, we recommend that you enable them.
Finally, Rank Math is a strong tool that takes your WordPress SEO to new heights without the need to install many plugins. There is a compelling case to switch to this tool to improve your WordPress SEO efforts. However, WordPress compatibility is the most important element to consider when replacing WordPress plugins.
Related Articles
What is Keyword Cannibalization and How to Fix it?
What is Cloaking in SEO? How to Avoid It
If any queries DM us LinkedIn