With this local SEO tutorial, you can learn how Google works with local sites and start optimizing your website for local search results to help your business thrive.
Chapter 1. Local SEO basics
To begin, let's define local SEO, why it important, and how it varies from "normal" SEO.
What is local SEO?
Local SEO is the practice of increasing your internet visibility in order to gain more business from local searches. These searches occur on a variety of search engines, however local SEO focuses on optimizing for Google users.
Why is local SEO important?
Because many people use search engines to find local companies, local SEO is essential.
In reality, Google reports:
Location is the subject of 30% of all mobile searches.
78% of people who use their phones to seek for anything nearby visit the business within a day.
A purchase is made in 28% of searches for anything nearby.
In simply, clients are looking for your company. If you don't show up, you're throwing money away.
What is the process of local SEO?
Because Google displays two sorts of search results for local searches, local SEO is a game of two halves. These are "map pack" and "blue link" organic results. You can earn points on both of them.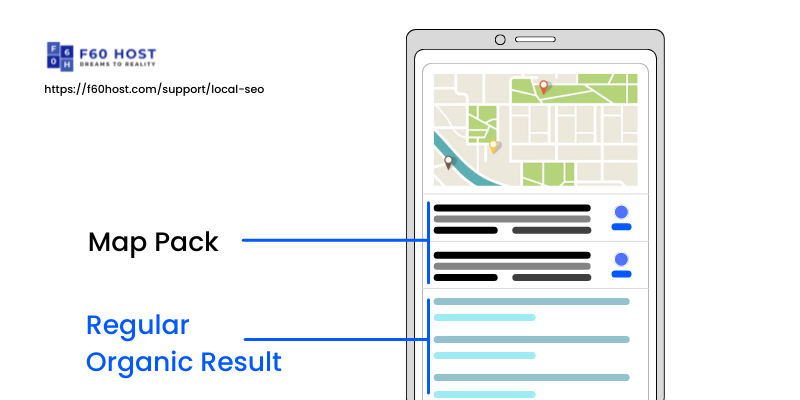 Map pack results
The map pack (also known as the local pack) is a Google SERP feature that displays the top local business results as well as a map. For local queries, it frequently appears at the very top of Google's search results.
Organic search results
The "regular" organic search results are the well-known "ten blue links." They are frequently displayed beneath the "map pack" results.
Chapter 2. Keyword research for local SEO
Local keyword research is the process of determining how people search for the services you provide in your area.
It's critical since you want to optimize for the keywords that people use when searching.
Let's go over how to accomplish it.
Most people do not consider the various methods in which others may look for what they do.
If you're a plumber, for example, some clients will find you by typing "plumber" into Google. Others, on the other hand, will look for searches related to specific services, such as "drain unblocking."
As a result, you should start by brainstorming and listing the services you provide. This will allow you to increase your visibility for queries that your consumers are searching for.
Second – Check for search volumes
National search volumes are displayed via keyword research tools. Google Keyword Planner is required if you want search volumes for your state, city, or municipality.
You can also use the Google extension – Keyword Everywhere that will also help you know the volume of the particular keyword with competition on the keyword and also the CPC if you would like to use the keyword for Google Ads.
Third – Assign keywords to pages
It is improbable that your homepage will rank for all of your service keywords. As a result, you will need to target some with distinct pages.
Consider which services URLs map to when assigning keywords to them.
Assign them to separate pages if they map to extremely different services, such as "boiler installation" and "bust pipe repair."
Assign them to the same page if they map to the same service, such as "drain unblocking" and "drain unclogging."
More information on this technique can be found in our local keyword research guide, which is linked below.
Chapter 3: Ranking Factors for Local SEO
You may recall that local SEO is a two-sided game with two approaches to rank. The map pack is the first, and the "normal" organic results are the second.
Ranking variables differ based on where you want to rank, although some are relevant to both.
Google Business Profile
A Google Business Profile is a local profile that includes information about your company. It's completely free and allows your company to appear in the map pack and Google Maps.
Learn how to get started with Google My Business
NAP citations
A NAP citation is an online reference of your company's name, address, and phone number. They are commonly found in company directories and on social media sites.
Reviews
Review is one of the important factor in Local SEO. The quantity and quality of reviews on your Google Business Profile and elsewhere online are referred to as reviews.
Google Business Manager🔗
Google Business Manager, previously known as Google My Business, is where you can manage your Google Business Profile. It is entirely free to sign up for, and every local business owner should use it.
Google Search Console🔗
Google Search Console is a free tool for tracking the search performance of your website. It tells you how much search traffic you have, where it is travelling, and what keywords are driving it.
Google Keyword Planner🔗
Google Keyword Planner is Google's free keyword research tool. It's a good resource for local search volume ranges.
Keyword Everywhere🔗
Keywords Everywhere provides keyword metrics for any keyword list and allows you to export the list in Excel, CSV, or PDF format.
Ahrefs' Domain Checker🔗
We have our own website authority metric called Domain Rating. It operates on a scale of 0 to 100. The greater the Domain Rating (DR) of a website, the more powerful and authoritative it is. The above free tool displays your website's "authority" as estimated by Ahrefs.
Ahrefs' Keyword Generator🔗
Search our database of over 8 billion queries for related terms. Simply insert up to ten words or phrases and pick one of six keyword idea reports.