An RSS feed is a file that contains a summary of a website's updates, usually in the form of a list of articles with hyperlinks. RSS stands for Really Simple Syndication, and it's a simple method to keep up with fresh material from the websites you care about. An RSS reader is an application or website that allows you to read RSS feeds.
If you're ready to create your own podcast, you'll need a provider that can both store your audio files and generate an RSS feed with all of your accessible episodes. After that, you may use the RSS feed URL to submit your podcast to major podcast directories.
This enables you to disseminate your podcasts throughout the internet via major platforms like iTunes, Google Podcasts, Tunein, iHeartRadio, and Spotify. These are essential techniques for gaining widespread exposure and the most effective way to attract new listeners. Because you need a simple way for people to locate and listen to your podcasts, no matter how amazing they are.
The first step in creating a podcast RSS feed is to sign up for rss.com and authenticate your account. After that, you'll choose an RSS URL and provide your podcast information. To get started, follow these simple steps.
Step 1: Create an account with RSS.com
Enter your email address and create a new password to create an account with RSS.com.
Step 2: Verify Email
View the verification code in an email with the subject "Please validate your RSS account email." Then, on the Verify Email Button, confirm your email address.
Step 3: Log in
Use the username and password you created in step 1 to log in. In the available field, type the specified code.

Step 4: Start new podcast
To start a new podcast, click the New Podcast button.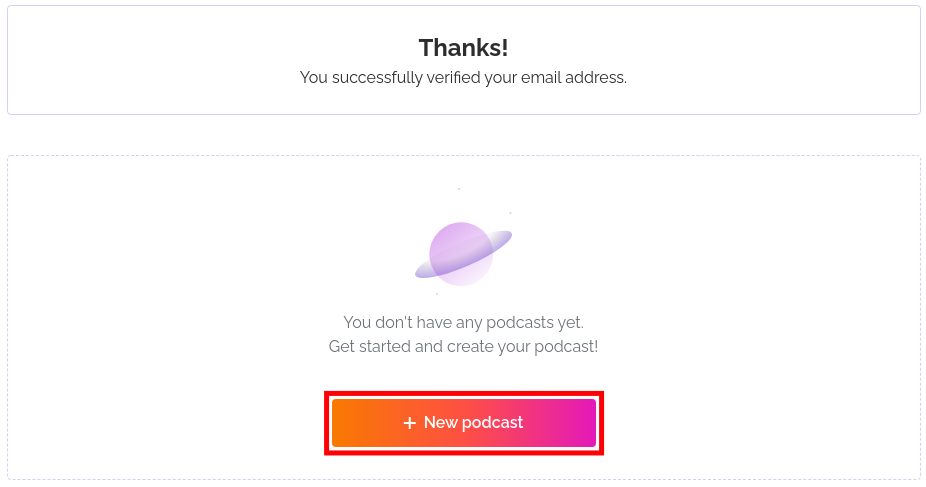 Steps to Create a podcast
Step 1: Choose a name for your podcast and give your podcast a title and a description.
Step 2: Enter the URL for your RSS feed as well as your public website. https://rss.com/podcasts/ will be the starting point for all RSS feed URLs. You'll use this RSS address to sign up for major podcast distribution services.
Step 3: From the drop-down menu, select a language.
Step 4: If your podcast contains explicit content, check the available box.
Step 5: Select Upload cover art from the drop-down menu. A square.png or.jpg image with a minimum resolution of 1400 by 1400 pixels is recommended.
Step 6: On the next screen, provide your author information, which should contain your name, email address, and copyright year.
Step 7: From the drop-down menu, select up to three Active categories. Health & Fitness, Music, Science, Sports, and Technology are just a few of the options.
Step 8: From the drop-down menu, choose a Primary Category.
Step 9: Click the Let's go button once you've finished entering all of your podcast information.
Step 10: You can now post your first episode by clicking the New Episode button. If you don't already have one, you might want to look at our guide to finding a Free Audio Editor. You may also copy your RSS Feed URL by clicking the RSS Feed button.
Begin the recording! Because you now know how to utilize RSS.com to generate a feed for a podcast. With your RSS Feed URL, you may start joining up for major podcast sites. More useful tutorials can be found on our Live Broadcasting Education Channel.
You can visit us – F60host.com
You may also like: Domain Name and Google Services