FTP Clients For Windows, Mac and Linux
Looking for the Best Free FTP Client for Linux, Mac, and Windows ? Read article bellow
FTP (File Transfer Protocol) The File Sending Protocol (FSP) is an Internet protocol that runs in the application layer and is the standard for sending computer files (files) between machines on a network.
FTP was one of the first Internet protocols developed, and it is still used today to transfer computer files between an FTP client and an FTP server. An FTP Client is a programme that allows you to send FTP commands to an FTP server.
Now that you're familiar with FTP, let's move on to the next topic: the best FTP Client Software. Why is this article important for you? Because you will use FTP to upload or download files between your computer and web hosting server if you frequently work with the web, as well as if you manage a WordPress site.
FTP CLIENT FOR WINDOWS
1. CLASSIC FTP
Classic FTP is a useful file transfer protocol client that is available for non-commercial use for free.
This free FTP client has the following notable features:
A simple user interface and drag-and-drop functionality.
It employs FTPS for secure file transfers and is compatible with the most popular FTP servers.
Bookmark functionality enables you to quickly access your most frequently visited locations.
You can use the Compare Directories tool to compare the file differences between remote and local directories. It highlights any file that does not have a counterpart in the other directory or any file that is newer than its counterpart.
Import/Export tool – easily import or export site data such as the server, password, and username.
The filter feature allows you to quickly find a specific file, which is useful when browsing directories with multiple files.
Classic FTP's unlicensed version is only for personal use. Choose the premium software if you want to use Classic FTP for commercial purposes.
Purchasing the premium software removes the Upgrade/Purchase button from the unlicensed software and removes the application's restrictions.
The Power Edition and the Standard Edition are the two premium editions available.
FTP CLIENT FOR MAC
CYBERDUCK
Cyberduck is a robust file transfer protocol client that can connect to a variety of servers, enterprise file sharing, and cloud storage.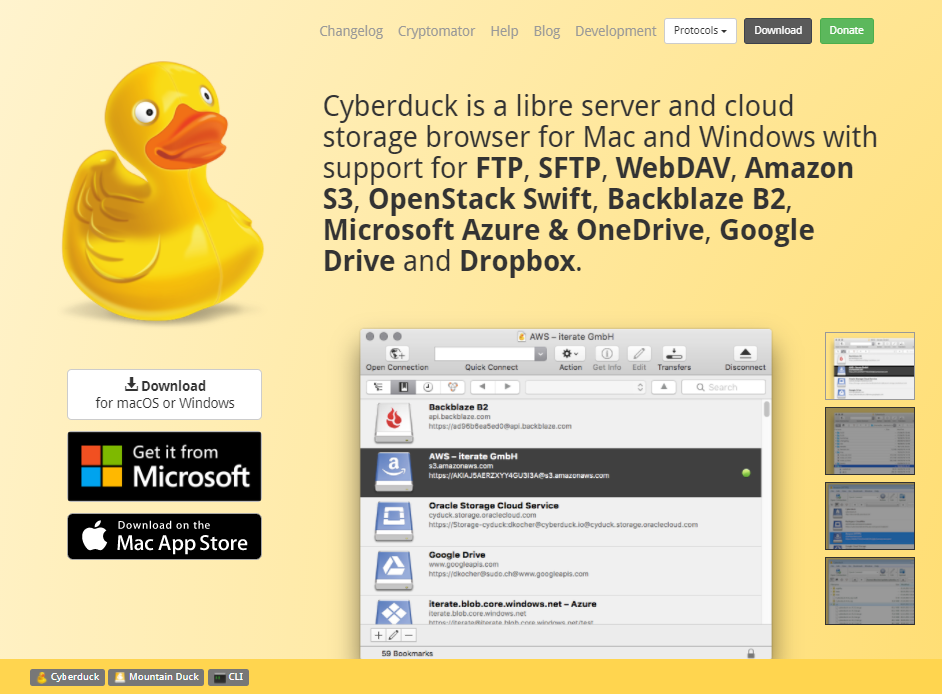 This free FTP client has the following notable features:
Compatibility with both Windows and macOS operating systems – Cyberduck's minimalistic user interface integrates and supports the native macOS environment.
FTP, SFTP, WebDAV, OpenStack Swift, Microsoft Azure, and OneDrive are among the transfer protocols and cloud storage services supported.
Allows for seamless integration with virtually any external text editor application – modify any text or binary file on the server as you see fit.
Bookmarks and the filter field – use them to conduct a quick search.
Limiting the number of concurrent file transfers and filtering your files – resume an interrupted file transfer and transfer directories multiple times.
Support in multiple languages, including English, Japanese, Korean, and Russian.
Cryptomator, Cyberduck's transparent and open-source client-side encryption tool, is interoperable with it – it allows filename encryption, individual file content encryption, and directory tree obfuscation, ensuring your security.
Cyberduck is available to users for free.
FTP CLIENT FOR LINUX
FILEZILLA
FileZilla is a simple FTP client that allows you to connect to any server via FTP, FTPS, or SFTP.

This free FTP client has the following notable features:
Drag-and-drop functionality makes it simple to manage files even for inexperienced users.
Language availability – if English is not your first language, you can choose from 46 other languages.
With a tabbed user interface, bookmarks, and filename filters, you can easily manage your website, files, and their location.
File transfer queueing and resuming an interrupted file transfer
Limits on transfer speed can be set.
There are no file size restrictions – transfer files up to 4GB in size.
Directory browsing that is synchronised – if the directory structures on the server and the local machine are identical, the directory navigation can be duplicated.
Editing and searching of files
FileZilla is available to download for free.
Need to know more? Then follow us at F60 Host