eCommerce Website Builders to Build Your Online Store
Ecommerce Website Builders are the quickest and most straightforward way to begin selling online. Inventory, payments, shipping, and everything else you need to run an ecommerce site are all supported by these tools on a single platform.
This guide has a solution for you whether you're starting a business from scratch or expanding your brick-and-mortar business online.
1. The Best Site Builder for Multichannel Selling – BigCommerce
BigCommerce powers some of the most visually appealing and profitable online stores. Fitbit, Skullcandy, Nikon, Gillette, Ivory, Ben & Jerry's, and Toyota are among them.
BigCommerce is available in two flavours: BigCommerce Essentials and BigCommerce Enterprise (a more customised experience for larger customers). BigCommerce Essentials, on the other hand, is available in three different packages. The prices are comparable to those of Shopify. The plans do have revenue caps, and BigCommerce charges you if you exceed them, so larger businesses will need to use the higher-level plans.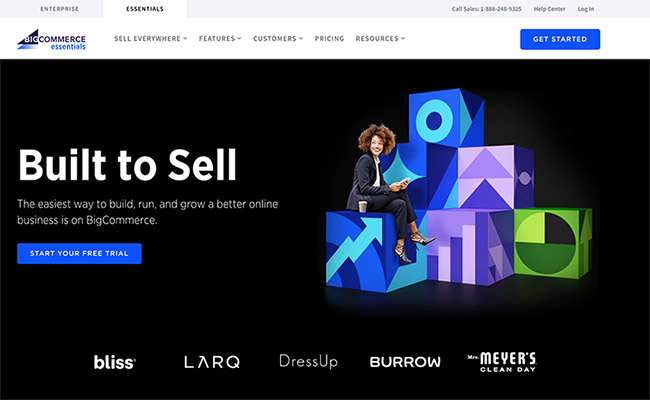 BigCommerce offers a simple step-by-step process for creating an eCommerce website. It shows you where you need to start and what you need to finish. You begin by adding your products and then create your website.
BigCommerce includes a sidebar navigation menu, with each item linking to the relevant section. It includes detailed instructions on what information is required as well as links to help files related to the form you're filling out. BigCommerce even shows you which third-party apps will assist you in expanding your functionality.
2. The Best for Getting a Store Up In Minutes – WIX
WIX is one of the most well-known website builders. The company has attempted to make the process of creating a website as simple and enjoyable as possible.
It's no surprise, then, that their web store solution, Wix eCommerce, makes it just as simple to get started selling online in no time.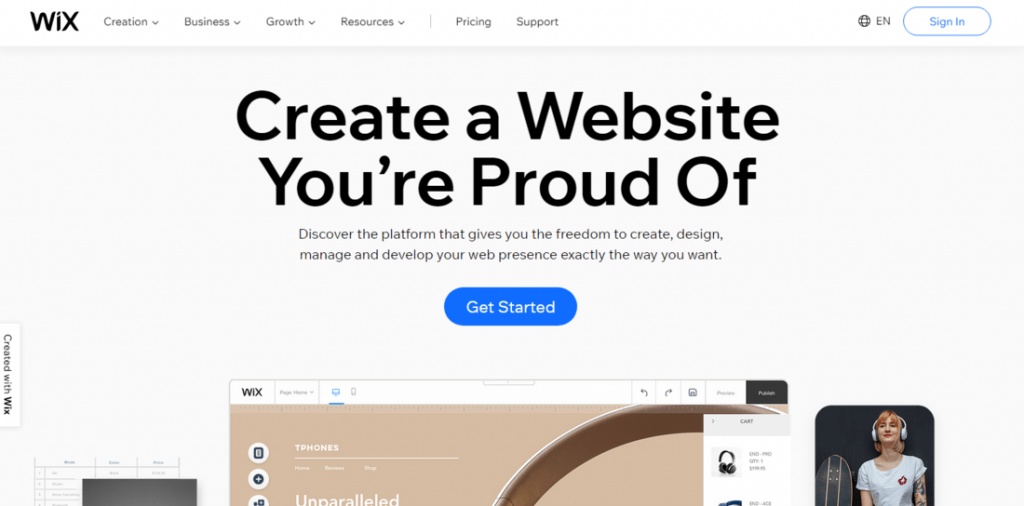 Wix has grown in recent years by beefing up the ecommerce capabilities it provides users. Wix eCommerce is more than just a store extension for their regular site builder; it's a fully integrated online business solution with a slew of impressive tools and features.
To begin with, it's very simple. To quickly create your storefront, use one of the hundreds of templates available. Simply change the colours and add your logo to match your branding before adding your products.
Alternatively, you can rely on the artificial intelligence of Wix's ADI builder, which will create it all for you (in minutes) after you answer a few questions.
Wix will get you there as long as you have a mental image of what you want.
It's the shortest path between not having a store and launching a professional ecommerce site.
If you're building your first ecommerce site, Wix's ease of use will make your life much easier. Its incredibly versatile platform is practically designed for someone with no prior web development experience.
But just because Wix eCommerce is simple to use doesn't mean it's lacking in important features.
Every plan includes unlimited bandwidth for your web store, as well as a free domain for a year and an unlimited number of products.
3. The Best Ecommerce Website Builder for Beginners – ZYRO
ZYRO provides a very beginner-friendly experience at a very low cost, as well as 24/7 support for all users.
You'll be able to lay out exactly how you want your website to look using drag-and-drop tools and watch it change in real-time. In fact, you'll be able to launch your website very quickly.
This is also referred to as the "What You See Is What You Get" method of website development. You don't need any coding experience. You don't have to alternate between preview and edit mode. All you have to do is move the elements to your exact specifications.
You'll also be able to promote and sell your products across websites like Instagram, Facebook, and Amazon.
There are a ton of different customizable themes across nine categories—so you can pick the perfect theme for your business.
4. The Most Customizable Ecommerce Site Builder – SHOPIFY
Shopify is one of the most well-known ecommerce platforms.
This is due to the fact that it is easily the most powerful ecommerce website builder on the market today. This web-based content management system (CMS) includes everything you need to set up and manage your online store.

To begin, select one of Shopify's 70+ free and premium themes.
Each theme includes settings that allow you to tailor everything to your preferences. Install apps from the Shopify App Store to add features and functionality to your store.
All payments are handled directly through the platform, which I appreciate. You won't need to connect any third-party processors to accept payments if your plan includes the Shopify Payments gateway. As a result, you can begin selling right away.
Remember that you can always use a different payment gateway by selecting one of the over 100 payment processors that integrate with Shopify.
For optimal performance, all plans include web hosting, unlimited email forwarding, unlimited bandwidth, and a content delivery network. You'll also gain access to marketing and SEO tools, as well as mobile optimization and analytics.
Shopify offers 24/7 customer support via phone, email, and live chat.
If you want to learn more about WordPress – e.g. how to To Update WordPress Plugins – F60 Host , or Top 6 Most Essential WordPress Plugins in 2022 your website – read any of our other guides on the blog.