If you want to undertake online marketing for your business, SEO is one of the most important factors to consider. In the simplest form possible: SEO is Optimizing your website for the search engines (i.e Google, Bing) so your website can appear on the First SERP (Search Engine Result Page)
SEO Full Form
SEO stands for Search Engine Optimization. SEO is the practice of boosting the number of people that visit your website, by optimizing your website according to your niche, keywords, and category.
What is SEO?
SEO focuses on increasing a site's rating in the organic (non-paid) segment of search results. The placement – or ranking – of a website on search engine results pages is widely used to gauge its visibility (SERPs). And businesses are continually competing for the first page, where they are most likely to get the most attention.

Core Elements of SEO: On-Page SEO and Off-Page SEO
When it comes to overall SEO, there are two approaches that are equally important: on-page SEO and off-page SEO.
Here is a specified On-Page SEO Checklist for your reference
Keywords (Keyword research is the first step in creating a successful SEO strategy)
Meta tags (Meta tags are still vital in SEO. By putting a phrase into a search engine, you may see how it appears in the title of a website)
Content (Quality content is the best way to rank for keywords and provide excellent user experiences, according to search engines)
Backlinks (Getting a link from other websites)
Social media (Since the inception of social media, algorithms have evolved significantly)
Have an in-depth understanding of the Core Elements of SEO.
SEO Strategies: Black Hat Vs White Hat
Going for rapid gains in SEO is generally referred to as "black hat SEO."
Actions may result in consequences:
Cloaking (The practice of displaying various material or URLs to human users and search engines)
Keyword Stuffing (Long lists of keywords without proper formation)
Spamdexing (The technique of repeating irrelevant phrases in order to alter the relevancy or prominence of search engine-indexed resources)
White hat SEO, on the other hand, is the only method to create a long-term internet business. This method of SEO focuses on your human audience.
White Hat SEO terms include:
Quality content
Well-labeled images
Unique and relevant page title
Create pages that are intended for users, not search engines.
Related: Black Hat SEO and White Hat SEO
SEO Ranking
The position of a website on the search engine results page is referred to as its ranking in SEO.
There are other ranking criteria that determine whether a website ranks higher on the SERP, such as the relevancy of the content to the search query or the quality of backlinks connecting to the page.
The ranking of a website or URL for specific keywords or keyword combinations differs for every search engine. A domain may rank in the top three for a specific keyword on Bing but not even on the first page of Google search results for the same term. Of course, this is true for all search engines; Bing, Google, Yahoo, and every other search engine has its own way of calculating rankings and hence ranks websites differently.
A Specific blog on How To Get On The First Page Of Google which you can refer.
If you thinking of starting your own journey into SEO here are some SEO Tools to start with.
Ahrefs Free Keyword Generator & Backlink Checker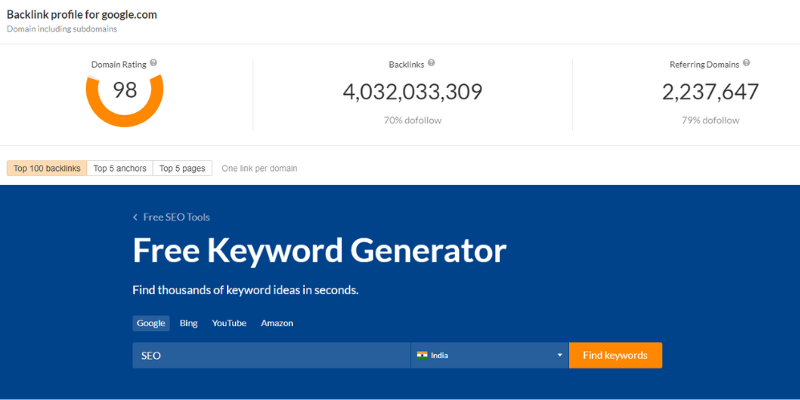 To begin with, you'll need to understand your relevant keywords and the number of people who search for them each month. Keyword Generator by Ahrefs with do it for you.
Once you found your keyword it is time to check all the links which you have submitted via Blog posting, Bookmarking, and Guest posting in the Backlink Checker.
Screaming Frog

The SEO Spider is a robust and adaptable site crawler that can efficiently crawl both tiny and extremely large websites while allowing you to analyze the results in real-time. It collects critical onsite data to help SEOs make informed judgments.
Sitechecker

It helps you check the basic on-page of your web page. Including H1 tags, description, and Canonical tag, and also gives you Warnings according to your structure and problems on your page.
Google Search Console

Google Seach Console is a very powerful tool by Google allowing you to track daily clicks on your website, Discover new keywords, and check the number of links which is Internal links and External links. And more features that you can discover by yourself through Google Search Console by entering your URL prefix
Want a guide on how to start using Google Search Console? here is a reference on: 5 Ways to Verify Your Site with Google Search Console
GT Metrix

How fast does your website load? GTMetrix is a tool that allows consumers to simply test the performance of their websites.
Conclusion to the SEO Guide
I hope you learned a lot from this guide on What is SEO because it contains a lot of knowledge. Keep this page handy as you progress through your SEO marketing journey. The first important thing to realize about SEO is that there are no shortcuts. You must do things well and go the additional mile if you want to stand out.
There is a lot to cover in the SEO part, it is a never-ending thing. There are new terms launched by Google on regular bases if it's a Core update or any other update such as the recent one Google helpful Content Update. Stick with us for all the latest updates related to SEO & Google: the latest update on @f60host.