Are you finding it difficult to start a WordPress Blogging site?
Here is a wordpress blog example for you that will help you start your wordpress blogging journey.
What do you need to start a WordPress Blogging site?
Top 3 Essential things to create a website:
A domain name idea (name of your WordPress Blog i.e f60host.com/support)
Web hosting account (live your website on Internet)
The Right Content (According to your intrest, niche, and targated audiance)
How to Start a WordPress Blogging site?
We"ll go through the steps of starting a WordPress Blogging site one by one
Pick a relavent Blog name & Platform for your site
The most common error new bloggers make is selecting the incorrect blogging platform. Fortunately, you're here, so you won't make that mistake.
Because WordPress is open source, it is completely free to use. You can instal plugins, change the look of your site, and, most importantly, make money from your blog without any restrictions (see the difference between WordPress.com vs WordPress.org).
A domain name is what people type to get to your website. It's your blog's address on the internet. Think fourty60.com or f60host.com
→ Click here to Buy the lowest Price Domain Name ←
Install WordPress Blogging Software
When you use our link to sign up with Bluehost, they will immediately install WordPress for you, allowing you to start constructing your blog right away.
If you use a different WordPress blog hosting service, such as SiteGround, Hostinger, or WP Engine, you can find step-by-step instructions for those providers in our thorough guide on how to install WordPress.
Although most of the top blog hosting firms now automatically install WordPress to assist non-technical users in getting started with blogging.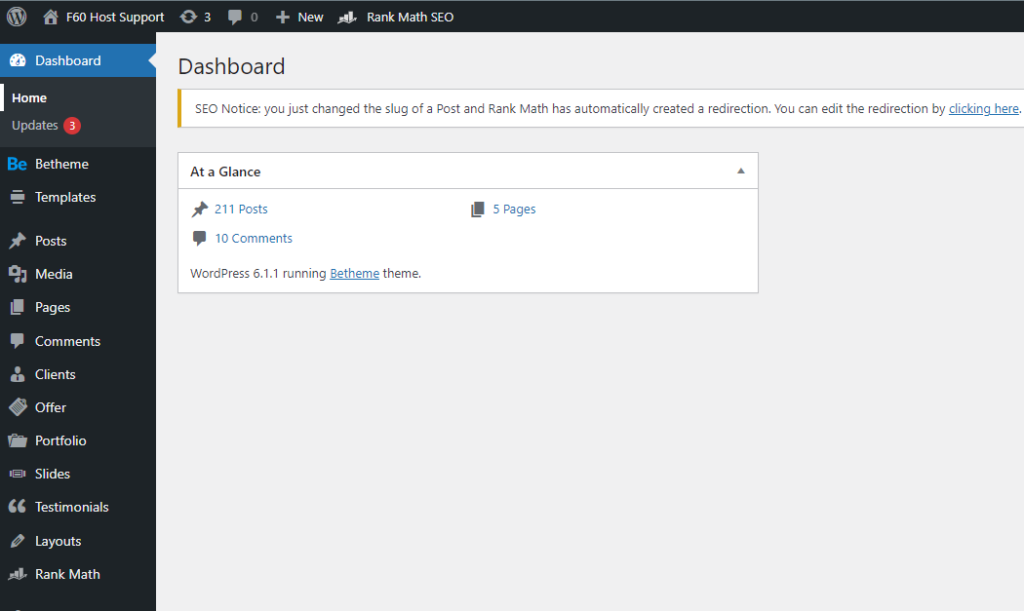 Once WordPress is installed, you can begin creating blog pages, customising your site's style, and blogging.
Select a Theme for your WordPress Blogging Site
Blog themes govern the aesthetic design of your WordPress blog. When you first visit your blog, it will seem as follows:
Customizing the appearance and feel of your site is by far the most interesting and rewarding aspect of the WordPress blog creation process.
You may instal thousands of pre-made WordPress themes on your site. Some of them are free, while others are premium themes that must be purchased.
To change your theme, go to your WordPress dashboard and select Appearance » Themes.
Go ahead and click on the Add New button.
On the next screen, you can search through the 9,100+ free WordPress themes available in the WordPress.org themes directory. You can sort by most popular, most recent, featured, and other feature filters (i.e industry, layout, etc).
After you've chosen your WordPress theme, you're ready to write your first blog post.
Creating Your First Blog Post
To create your first blog post, go to your WordPress dashboard and select Posts » Add New.
You will be able to compose your first blog entry in the editor area.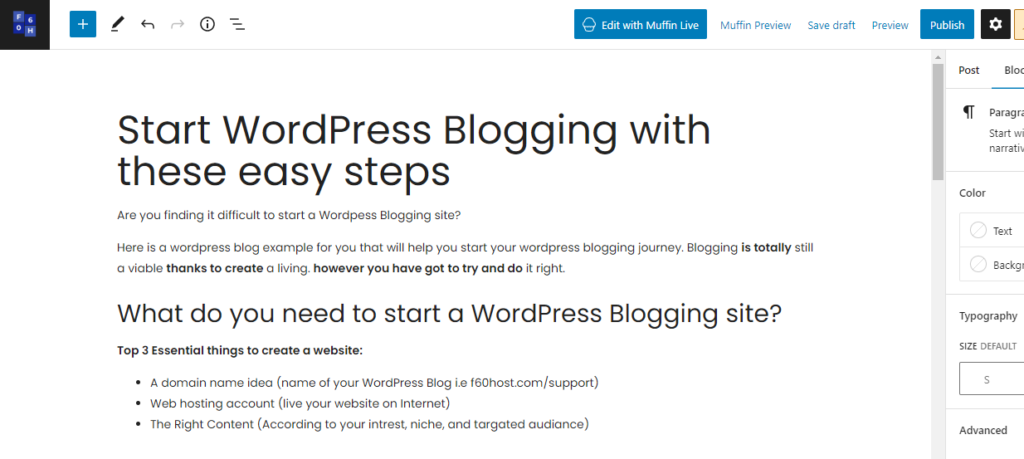 WordPress employs a block-based editor that enables you to design visually appealing content layouts for your blog entries.
When you're finished writing, click the Publish button in the top-right corner of the page to make your blog post public. This is how u can start with your WordPress Blogging.
We have a step by step guide on how to do keyword research for beginners using the exact same method that we use F60 Host.
Most beginners don't optimize for SEO when creating a blog. SEO or search engine optimization helps users find your blog in search engines.
If you want more traffic, then it's crucial that you optimize your blog for SEO right from the beginning.
Experts may have told you that WordPress is SEO friendly. This is why many people pick WordPress to build a blog or a website. While WordPress ensures that the code it creates adheres to SEO best practices, there is much more you can do to improve your SEO efforts.
You can even see the exact keywords your competitors are ranking for, so you can create better content and outrank them.
This helps you maximize the traffic on your new blog site right from the beginning. For more details, see our newbie's guide on how to do keyword research for your own blog.
Making Money From Your Blog
You may be wondering how to make money blogging now that you've made your personal blog and customised it to your desire.
There are numerous methods for successfully monetizing your blog. There is, however, no such thing as a get rich quick scam.
Google AdSense
Many bloggers generate money by displaying advertisements on their blogs. If you want to monetize your site, Google AdSense is the greatest option to do so.
It is the most popular blogging and publishing advertising platform. Google, as an intermediary between you and the advertiser, allows marketers to bid on keywords that match your content. This allows you to get the greatest ad rates available.
Affiliate Marketing
Affiliate marketing is the second most commonly used monetization strategy among bloggers. Basically, you recommend your favorite products / services to your readers, and when they make a purchase you get a referral commission.
Frequently Asked Questions (FAQs)
Can I create a blog without WordPress?
Yes, there are additional blogging platforms available. We compared them all, and by far the best website builder solution on the market for creating a blog with complete ownership and flexibility is WordPress.
Which are the Top WordPress Plugins
WordPress is the ideal platform for building virtually any type of website. It's simple to learn and extremely adaptable. However, there are some things it isn't designed to do by default, so you may find yourself looking for a way to add specific features. Here are the most Essential WordPress Plugins
How to Install WordPress Manually
WordPress is the most widely used web platform and Content Management System (CMS). By using it to build your site, you'll be joining a vibrant community of users and developers. However, if you've never installed it before, you might be confused about the process and how to get everything to work. (Install WordPress Manually)
Get More information and updates on wordpress and Digital marketing with us. Follow us on Linkedin at f60host for regular update