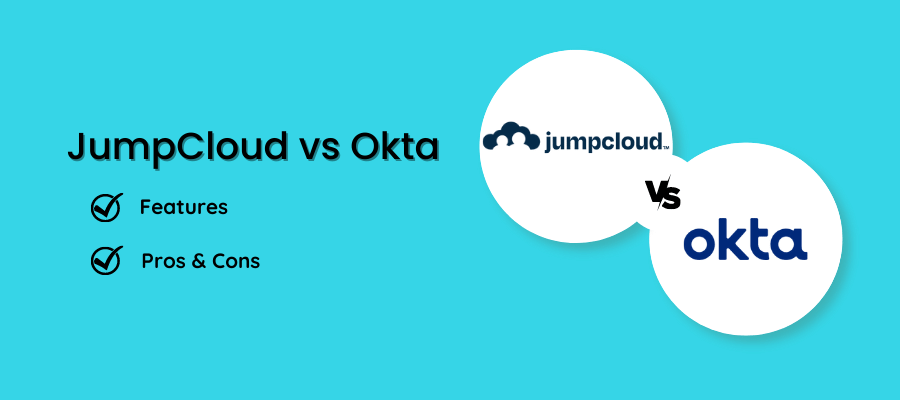 Read this feature comparison JumpCloud vs Okta, two popular Identity and Access Management (IAM) software that can help secure your company.
Protecting your company's networks, computers, and other corporate resources requires identity and access management software.
Although Okta is one of the most well-known firms in the IAM field, the company's supremacy has recently been challenged by up-and-coming competition JumpCloud. To help you choose the proper IAM software for your business, we're comparing the key features of JumpCloud vs Okta.
What is the JumpCloud Directory Platform?
JumpCloud is an open directory platform that enables secure, frictionless access to any resource, from any device, any place. The objective of JumpCloud is to Make Work Happen by providing simple, secure access to company IT resources from any device or location.
It is a zero-trust directory platform that provides single sign-on, cloud LDAP, Cloud RADIUS, multi-factor authentication, device management, server access, and other features. JumpCloud aims to provide a comprehensive IAM solution for cloud-forward businesses, whether you need to manage cloud-based apps or on-premise devices.
What is Okta?
Okta is one of the major identification providers, with over 15,000 companies entrusting their users' data to it. Through its cloud-based platform, Okta provides SSO, multi-factor authentication, advanced server access, a universal directory, and more. Okta provides a single, integrated service for securing interpersonal interactions.
JumpCloud vs Okta: Features Comparison
| Features | JumpCloud | Okta |
| --- | --- | --- |
| Single sign-on | Yes | Yes |
| Mobile device management | Yes | No |
| IaaS server connection | Yes | No |
| Multi-factor authentication | Yes | Yes |
| Password manager | Yes | Yes |
JumpCloud vs Okta Pros
JumpCloud vs Okta: Pros
JumpCloud
Okta
The most valuable features of JumpCloud are flexibility, policy management for devices, and device patch management.
Okta provides a number of options with respect to multifactor authentication, such as the app, phone call, and text.
JumpCloud has ability to integrate all applications.
Okta is quite simple. You can integrate any software into Okta
The interface is clean and user-friendly.
Okta is easy to use and straightforward.
Setting up new devices or setting up new users inside the system is easy.
This solution has a lot of capabilities and features.
JumpCloud vs Okta Cons
JumpCloud vs Okta: Cons
JumpCloud
Okta
They are only giving the three standard features, such as SSO radius.
The integration with third-party tools needs to be improved.
JumpCloud can improve in its synchronization of identities.
The guest user access could be improved.
JumpCloud could improve the compatibility with other devices and operating systems.
Okta Workforce Identity could improve the way passwords are reset and how it interfaces with Microsoft.
JumpCloud vs Okta: Overview
JumpCloud is an open directory platform that enables secure, frictionless access to any resource, from any device, from any location. JumpCloud's objective is to Make Work Happen® by enabling easy, secure access to company IT resources from any device, at any time.
---
Okta is an enterprise-grade identity management service that was designed in the cloud from the ground up and is delivered with a relentless focus on customer satisfaction. IT can manage access to any programme, user, or device with Okta.
Which should you prefer? – JumpCloud vs Okta
Many firms around the world operate both JumpCloud and Okta in combination, relying on Okta for its extensive SSO capabilities and JumpCloud for its cloud directory service, mobile device management, and other services.
Choose Okta if you have to choose between the two and want a recognized SSO provider with thousands of ready-to-use app connectors. Choose JumpCloud if you need additional functionality and a well-rounded IAM solution with many features in one bundle.
JumpCloud changes the way of IT administrators it puts the identity store in the cloud. This allows us to point all our various systems into this one cloud-based system.
If you are looking for a Cloud Directory, Visit F60 Host to know more about the JumpCloud Directory Platform and JumpCloud Pricing at a much more affordable price.
Some FAQs about JumpCloud vs Okta
What is JumpCloud?
JumpCloud is a cloud-based directory platform that provides centralized user management and authentication services for both on-premises and cloud-based resources. It offers SSO, MFA and more.
What is Okta?
Okta is a leading identity and access management (IAM) platform that offers cloud-based services for user authentication, authorization, and management.
Which platform is easier to integrate with applications?
While JumpCloud also supports application integrations, Okta generally has a broader range of pre-built integrations and developer-friendly tools.
Which platform offers better MFA options?
Both JumpCloud and Okta offer MFA capabilities. JumpCloud provides a variety of MFA options, including SMS-based codes, TOTP (Time-based One-Time Password), and WebAuthn (FIDO2) for hardware token support. Okta also offers a range of MFA methods, including SMS, voice call, email, push notifications, and support for various third-party MFA solutions. The specific requirements and preferences of your organization may influence which platform's MFA options are a better fit.
Which platform has better customer support?
Both JumpCloud and Okta provide customer support, but the quality of support can vary based on the specific plan or subscription level. Okta, being a larger and more established company, generally has a wider range of support options, including phone support and a dedicated customer success manager for enterprise customers. JumpCloud offers support through email, live chat, and a knowledge base. It's recommended to review the support offerings and customer reviews to assess which platform aligns better with your organization's needs.