Have you ever watched a movie and immediately Googled an actor's name to learn more about them? You see a panel on the right-hand side of the SERP with a brief biography of the performer, as well as extra links and resources? That is an information panel.
What is a Google Knowledge Panel?
A knowledge panel contains information that Google believes to be true. An algorithm determines this fact. The algorithm analyses data acquired by GoogleBot, cross-references it with reliable sources, and extracts facts for display in SERPs (Search Engine Results Page).
Knowledge panels are quite visible on the desktop. They're on the right side (called the right rail), and they're identified as a knowledge panel by a small'share' icon.
A word of caution: Google My Business boxes are not knowledge panels. They are business listings that, like Yellow Pages, contain information provided by the business itself (in good faith). The Google Map in the top area can help you find these.
An Important note:
We occasionally witness hybrid results that combine the two. Google is attempting to integrate them, but that will have to wait until 2022 or later.
Google will provide a knowledge panel when it has comprehended a fact, is confident in that understanding, and believes that fact will be useful to the user in their search (read on for more on that).
What Are the Functions of Google Knowledge Panels?
A small aside: In the following, I use the term "entities." Simply described, an entity is a distinct 'thing,' such as a person, a structure, a product, or a business.
When Do Knowledge Panels Show Up?
When Google detects an entity in a user's search query, it may display a knowledge panel.
Three major aspects are considered: Google's confidence that it has accurately comprehended the facts about the entity, the likelihood that the user search query corresponds to a specific entity, and whether the algorithm finds a Google knowledge panel to be beneficial to the user.
Google provides four common use cases in its patent. And once you've read them, you'll understand where Google is coming from and why they're becoming more common on Brand SERPs (read more about that here).
Provide users with basic factual information about a certain entity cited in a search query culled from many sources.
Assist users in going to several web pages that have related material (aka links in the Google knowledge panel to other search results).
Provide content that would otherwise necessitate the user visiting various search results and websites.
Assist users in obtaining information more quickly than they would if they had to visit all of the referenced webpages.
Here is a highly comprehensive information panel that exemplifies those four points.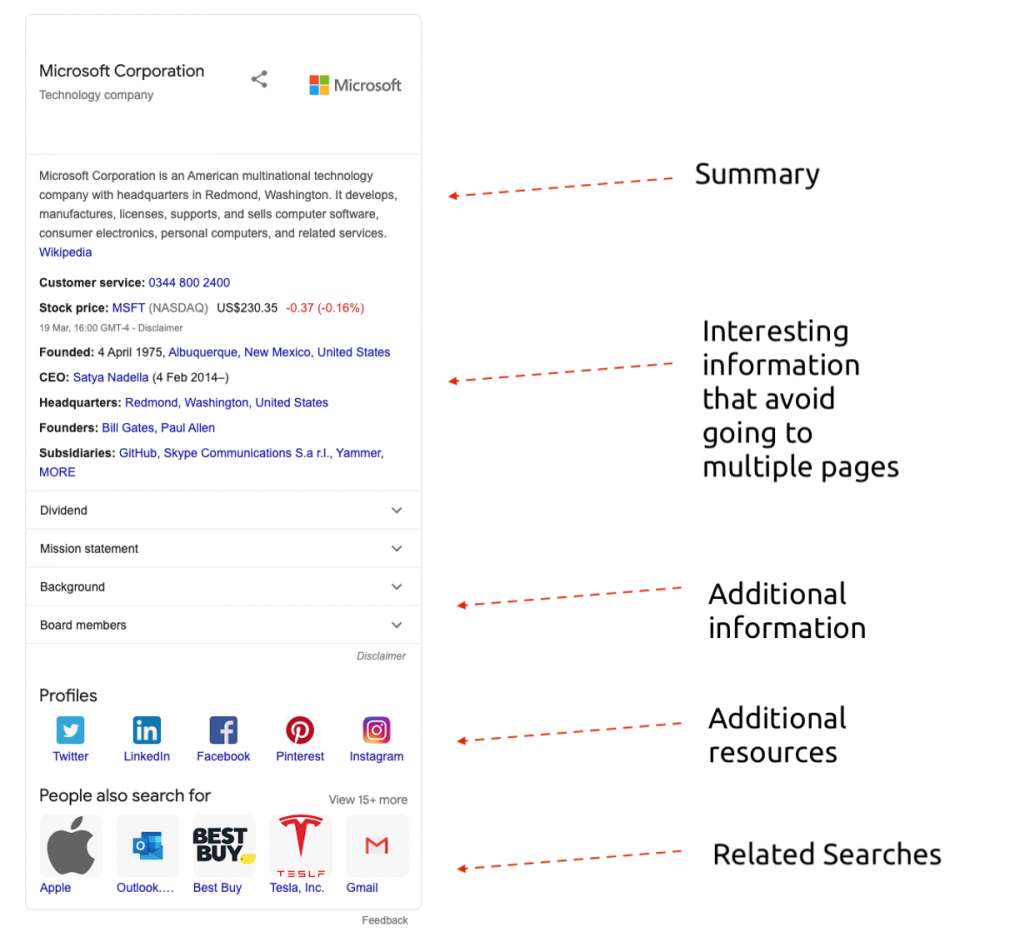 Why Is a Google Knowledge Panel Necessary for your Company?
We now demand a Google knowledge panel for a brand search as Google users. If there are none, the brand's credibility may suffer.
When someone searches your brand name, Google must display a knowledge panel that appropriately portrays your organisation.
Anyone who looks for your precise brand name is, by definition, part of your target demographic. They might be a bottom-of-funnel user, a client, a partner, a prospective hire… In a nutshell, the people who are most crucial to your company.
Google must grasp and accurately display the facts about your company (or, for that matter, any entity: brand, service, product, person…).
You want Google to provide information that is accurate and positive to users and your target demographic. You don't want to take any chances.
How Do I Form a Knowledge Panel for My Business?
Creating a Google knowledge panel is a straightforward three-step procedure.
Step 1: Locate the entity's residence.
Determine what I refer to as the 'entity home.' This is the page on which the entity'resides' in Google's mind. The go-to source for corporate information.
It can be any page as long as it only discusses the company. Pages that cover numerous entities should never be used as the home of an entity.
You get to choose which page Google identifies as the entity home if you execute steps two and three.
You want that page to be on your site, where you have complete control over the material, rather than on a site you don't own, like Wikipedia, or a site you control only partially, like Twitter or LinkedIn. Google encourages it to be on your own website.
Step 2. Set out the facts
On the entity home page, present the facts you want Google to comprehend in the form of a straightforward description divided into sections (one for each aspect) with informative, factual, and easy titles.
To transmit the same information in Google's 'native language,' add Organization Schema.org markup. It's simply repeating what you say on the page in a way that Google can understand. More information can be found here.
Step 3. Corroborate
Step two's schema.org markup should include links to sources about your company that Google is likely to trust.
All you have to do is identify them and, to the greatest extent feasible, correct all of the facts and information on those pages so that they confirm what you state on the entity home page. If at all feasible, use the same (or extremely similar) description for each one.
The Question Is: To Wikipedia or Not to Wikipedia?
In general, the process is slow and time-consuming.
Because not all businesses 'deserve' to be listed on Wikipedia, and many are turned down, time spent there is frequently wasted.
If you acquire that article on Wikipedia and your strategy is entirely Wikipedia-based, you're on shaky footing. The knowledge panel will almost probably disappear if the Wiki admins delete the page during the first year.
You are turning over ownership of your company's facts to a site over which you have no control, and if the material is incorrect, you will have a problem. For additional information, listen to my podcast.
If you have a Wikipedia article, Google will utilise the first phrase as the description on your Google knowledge panel. It is extremely visible to your audience and is presented as trustworthy information – the dangers are obvious. In the absence of a Wikipedia article, Google will use a description from another site that it trusts.
It has grabbed my author profile from Search Engine Journal, which I may now modify.
Do not rely on Wikipedia or Wikidata. They are insufficient to form a solid knowledge panel on their own, and each involves hazards. The deletion of your post or item sends a very bad signal to Google.
Without either Wiki, I was able to create well over 100 knowledge panels. They are stable, solid, and (most importantly) I have good control over them.
How Do I Claim My Google Knowledge Panel?
There are two options. 
Option 1: Google acknowledges the entity residence.
If Google has recognised the entity home (as indicated by the globe icon on the knowledge panel), and you are the recognised owner of the domain (property) in Search Console, you may log in to Search Console and claim the knowledge panel when you click on "claim this Google knowledge panel."
There is a new option available (as of early 2021). Google has added Twitter and YouTube as additional ways to claim your knowledge panel, and they are sometimes (but not always) available as alternatives.
It is important to note that the Search Console option is never available if Google has not detected the entity home. I've never seen the social channel choice when there is no entity home; the two appear to be linked.
Option 2: Google fails to detect the entity's home or social channels.
Things become much more problematic if there is no 'globe icon' or social icons.
You must demonstrate who you are as well as why your relationship with the entity (business, person, etc.) should grant you management of their Google knowledge panel.
There are a number of steps you must take. Your government-issued ID, a selfie with your ID, confirmation of your legal tie to the organisation, and logged-in screenshots of recognised social profiles are all required.
A human at Google then reviews everything and either approves or rejects the application.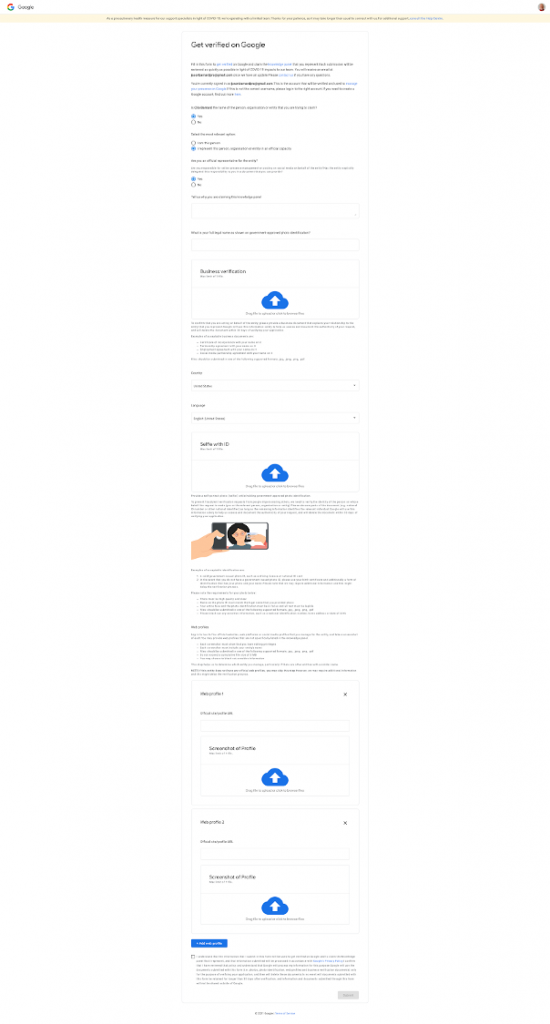 A Knowledge Panel will help you reach out to your target audience more effectively.
Having a knowledge panel for your firm is a'must' from a variety of perspectives:
They make you appear credible to your target audience when they search for your brand name and see your Brand SERP.
You may appear in entity-based SERP elements such as carousels, entity boxes, and People Also Search For (perhaps on the branded searches of your competitors).
A knowledge panel indicates that Google has determined who you are and what you do. That is, you will not be left behind in the realm of entity-based search.
Hope you liked this article on Google knowledge panel, If you would like a blog on any specific topic please reach us out on F60 Host.