Configure Default Email Address in cPanel
You'll learn how to set up a default email address for your domains in this straightforward guide. The Default Address option in cPanel is used to do this. If the sender's email address is invalid, the default email address is utilized to receive all incoming emails. For instance, I have only one email address for my domain: [email protected], but the sender incorrectly writes [email protected]. Because such an email address does not exist, I've put up a Default Address function to ensure that emails are sent to [email protected]
What you'll require
You'll need the following items before starting this guide:
Access to your hosting account's cPanel.
Step to Configure Default Email Address in cPanel
Here are the simple steps to configure the default email address in cpanel.
Step 1: Locate the Default Address option.
You may either use the search feature or manually look for the Default Address feature in the Email section after logging into your cPanel:
Step 2 : Setting up the Default Email Address
After clicking on Default Address, you will be taken to the next window which looks something like we see in the following picture.
Here, you will see all the options marked with arrows with numbers. They will all be explained below the picture.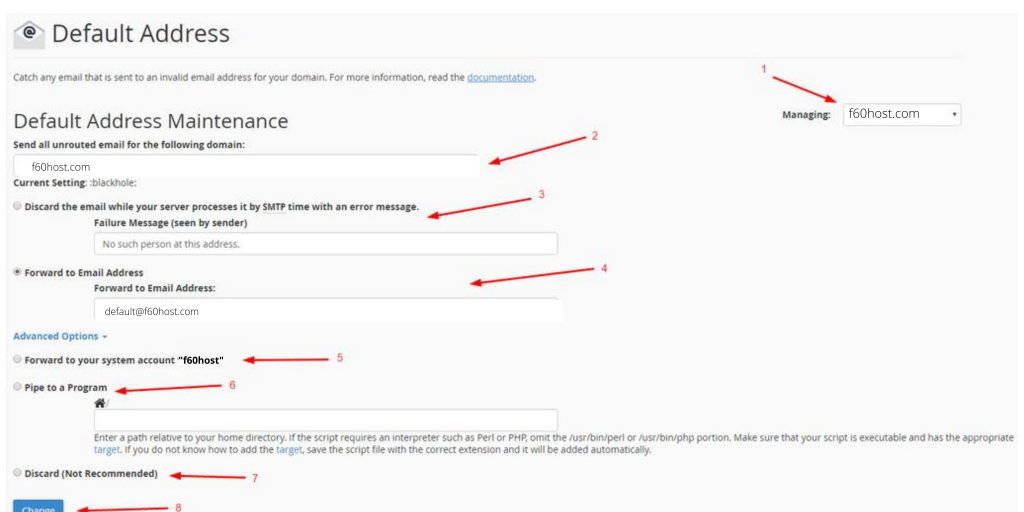 Managing – Here you must select the domain name you want to manage the Default Address for; you can either select a specific domain/subdomain/addon domain or select All Domains to route all unrouged emails to the default email address for all domain names on your cPanel account.
This option does the same function as the first. As a result, you can just select the same option as the first.
You can choose to discard the incoming email and send an automatic reply to the sender that says whatever you type in the Failure Message area, in our case: "No such person at this address."
The option to forward to an email address is the one we will use and encourage. The email address to which all unrouted emails will be sent must be entered here. We selected to catch all lost emails with the [email protected] email address in our situation.
This setting will forward any lost emails to the system account in cPanel. We do not advocate this alternative because most hosting providers do not give complete system mail account capability.
You can use the Pipe to a Program option to forward missing emails to your scripts. This is a more advanced function that we only advocate using if you are confident in your abilities.
Discard – This option should not be used. It will simply erase all lost emails without informing the sender of the failure. Essentially, the sender will be unaware that the email did not reach you, and you will be unaware that the sender attempted to contact you.
Finally, once you've made your selections, click Change to save your modifications.
You'll be met with a notice similar to this:

Conclusion
Congratulations! You've set up a Default Email Address, which ensures that all lost or afraid emails find their way to your inbox and that none of them go unopened!
What is default email address in cPanel?
When your hosting provider creates your cPanel account, the system creates the cPanel account's default email account. It employs the [email protected] format, where the account is the name of your cPanel account and the domain is the name of your primary domain. Your cPanel account username and password are the same.
More Information:
For more information about Google G Suite/Workspace domains, Server, Hosting, check out these F60 Host resources: