Are you tired of wrestling with complex codes and spending endless hours crafting website designs? Look no further than Elementor, the revolutionary page builder plugin that transforms the way websites are created. With its user-friendly interface, powerful features, and unrivaled creative potential, Elementor has become the go-to choice for designers and developers worldwide. In this blog post, we'll delve into the exceptional features of Elementor, explore its pricing options, discover the vast world of free plugins, and highlight the importance of using this remarkable tool.
Features of Elementor: Empowering Your Design Journey
a. Intuitive Drag-and-Drop Interface: The drag-and-drop interface makes building websites a breeze. No coding skills required! Simply select the desired element from the sidebar and drop it onto your canvas. Arrange and customize elements in real-time, seeing the changes take effect instantly. With Elementor, you have full control over the design and layout of your website.
b. Advanced Styling Options: Customize fonts, colors, spacing, and backgrounds to achieve the desired look and feel of your website. Apply stunning animations, hover effects, and transitions to captivate your visitors and create a memorable user experience.
c. Global Widgets and Templates: Save time and ensure consistency across your website with Elementor's global widgets and templates. Create reusable widgets that can be easily applied to multiple pages, making updates a breeze. Utilize pre-designed templates or save your own designs as templates for future use, maintaining a cohesive visual identity throughout your website.
Elementor Pricing Options: Choose the Plan That Suits You
a. Free Version: Elementor offers a free version that provides a solid foundation for website creation. Enjoy essential features such as drag-and-drop editing, a wide range of widgets, and access to the template library. The free version is perfect for beginners or those on a limited budget, allowing you to explore capabilities without any upfront costs.
b. Elementor Pro: For advanced functionalities and professional-grade features, Pro is the way to go. With a range of affordable pricing plans, Pro unlocks additional design elements, dynamic content capabilities, and access to premium templates. Gain access to features like custom CSS, form builders, WooCommerce integration, and more, taking your website to the next level.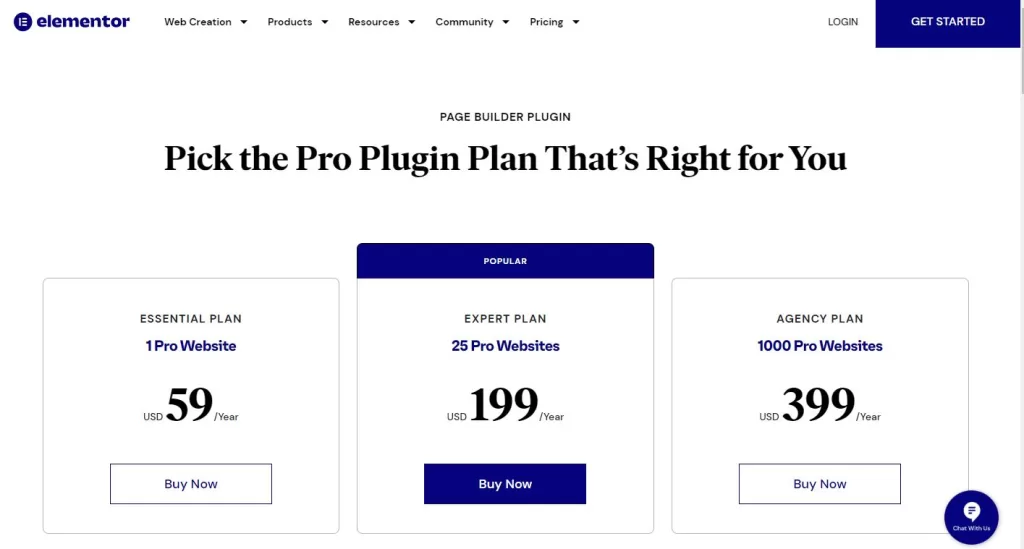 Free Plugins: Expanding the Possibilities
a. Essential Plugins for Optimization: Enhance your website's performance and optimize its SEO with free plugins that integrate seamlessly with Elementor. Utilize plugins like Yoast SEO for improved search engine visibility or WP Rocket for faster page loading times. These plugins extend capabilities, ensuring your website is optimized for maximum impact.
b. Functional Plugins for Advanced Features: Take advantage of free plugins that add advanced functionality to your Elementor-powered website. From contact form builders like Contact Form 7 to image optimization plugins like Smush, the WordPress repository offers a plethora of options. Expand your website's capabilities without the need for coding, creating a truly dynamic and engaging user experience.
Read More on 3 Best WordPress Popup Plugins to Skyrocket Leads (2023)
OVER 40+ FREE WIDGETS AND COUNTING
Elementor includes a variety of 40+ free widgets for you to build professional and engaging websites:
Heading. Add eye-catching headlines.
Image. Control the size, opacity and other settings of images.
Text Editor. A WYSIWYG text editor, just like the WordPress editor.
Video. Add YouTube, Vimeo, Dailymotion or self-hosted videos to your page.
Button. Controlling every aspect of the button design.
Image Box. A box that includes image, headline and text.
Testimonials. Customer testimonials that show social proof.
Icon. Place one or more of 600+ icons available.
Icon Box. Include an icon, headline, and text with one widget.
Social Icons. Link to your social pages with the relevant icon like Facebook/Twitter.
Image Gallery. Displays your images in an aligned grid.
Image Carousel. Create a rotating carousel or slider for chosen images.
Icon List. Use any icon to create a bullet list.
Counter. Show stats and numbers in an escalating manner.
Progress Bar. Include an escalating progress bar.
Tabs. Display different pieces of content in vertical or horizontal tabs.
Accordion. Display content in multiple collapsable sections.
Toggle. Use the Toggle to hide or display content, like FAQ.
Star Rating. Allow your visitors to rate you on your website.
Alert. Include a colored alert box to draw visitor's attention.
HTML. Insert code into the page.
Shortcode. Easily insert shortcodes from any plugin into the page.
Menu Anchor. Link any menu to this anchor.
Sidebar. Add any sidebar into the page.
Google Maps. Embed maps into the page.
SoundCloud. Add audio bits from SoundCloud.
Divider. Separate content with a designed divider.
Spacer. Add space between elements.
Columns. Create inner columns within the column.
Text Path. Attach your text to a path..
And counting…
Thriving Elementor Community: Connect and Learn
a. Engage with a Supportive Community: Elementor has fostered a vibrant and supportive community of designers, developers, and enthusiasts. Join online forums, social media groups, and dedicated communities to connect with like-minded individuals. Seek guidance, share ideas, and collaborate with fellow users, expanding your knowledge and enhancing your skills.
b. Learning Resources and Tutorials: The Elementor community offers a wealth of learning resources and tutorials to help you master the plugin's features and techniques. Access video tutorials, blog posts, and documentation that cover a wide range of topics. Stay up-to-date with the latest tips, tricks, and best practices shared by experts within the community.
c. Showcasing and Inspiration: Explore the showcase, where users proudly display their outstanding websites created with the plugin. Gain inspiration from the diverse range of designs and functionalities showcased, fueling your creativity and sparking new ideas for your own projects. Share your creations and receive valuable feedback from the community, further refining your skills.
Want To Know About 3 Best WordPress Help Desk Plugins for Stellar Customer Support?
How Elementor and WordPress Complement Each other
Seamless Integration
Elementor is a plugin specifically designed to work within the WordPress ecosystem. It seamlessly integrates with WordPress, allowing users to enhance their website design and functionality without any conflicts or compatibility issues. This integration ensures a smooth and cohesive experience for website owners and developers.
Drag-and-Drop Design
Elementor takes advantage of WordPress's flexible architecture, enabling users to leverage a powerful drag-and-drop interface. You can easily create and customize webpages within the WordPress environment. The intuitive design process allows you to visually design and arrange elements, eliminating the need for complex coding or technical expertise.
Full Compatibility
Elementor is built to be fully compatible with WordPress themes and plugins. This means you can use Elementor with any WordPress theme, whether it's a free or premium one. Additionally, Elementor provides compatibility with a wide range of popular WordPress plugins, allowing you to extend the functionality of your website and integrate with various tools seamlessly.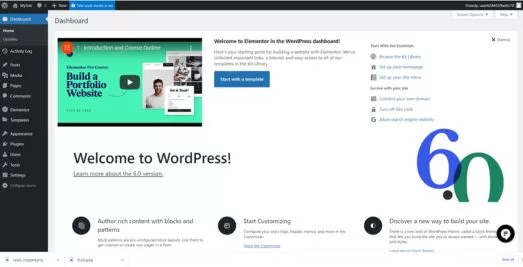 Customization and Control
WordPress provides a solid foundation for building websites, offering features such as content management, user management, and plugin support. Elementor, on the other hand, adds a layer of customization and control by providing a comprehensive set of design tools and options. With Elementor, you have the freedom to customize every aspect of your website's design, from headers and footers to individual sections and elements.
Responsive Design
WordPress is known for its ability to create responsive websites that adapt to different devices and screen sizes. Elementor enhances this capability by providing built-in responsive design options. With Elementor, you can easily preview and customize the appearance of your website across desktops, tablets, and mobile devices, ensuring a consistent and optimized user experience.
Extending WordPress Functionality
Elementor extends the functionality of WordPress by enabling users to design and build advanced layouts and features. With Elementor, you can create complex page structures, dynamic content, custom post types, and interactive elements that go beyond the default capabilities of WordPress. This combination of WordPress's robust foundation and Elementor's design power results in highly functional and visually impressive websites.
Our Pick Top 5 Free WordPress Themes
Embrace Elementor and Witness how it Simplifies the Web Design Journey
Elementor has revolutionized the web design landscape by providing an intuitive, feature-rich, and user-friendly page builder plugin. With its drag-and-drop interface, advanced styling options, and global widgets, Elementor empowers designers to unleash their creativity and build visually stunning websites.
Whether you opt for the free version or invest in Pro, you'll have access to a wide range of features and templates that streamline your design process. The integration of free plugins expands the possibilities even further, allowing you to optimize and enhance your website's functionality without any coding knowledge. Embrace Elementor and witness how it simplifies the web design journey, saves time and costs, and delivers remarkable websites that captivate visitors and drive business success. Tell us about your experience at F60 Host.
Unleash your creativity today and experience the power of Elementor!